Reviews
When a company puts out a highly acclaimed mouse like the MX Revolution Mouse (

), the bar gets set pretty high. Logitech's new MX 1100 Cordless Laser Mouse isn't as feature-filled as the MX Revolution, but it does measure up—it's one of the better mice I've ever used.
The MX 1100 is a beast of a mouse; it fits my hand comfortably (my right hand measures 8.5 inches from the base of my wrist to the tip of my middle finger), but kids or users with smaller hands might find the mouse unwieldy. It weighs just over 5 ounces, which doesn't sound like much, but compared with Apple's Wireless Mighty Mouse (

), the MX 1100 is boat anchor. For me, being so heavy isn't a bad thing; it gives the mouse a solid feel, and I was still able to move it effortlessly.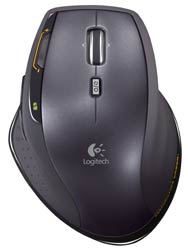 Logitech's MX 1100 Cordless Laser Mouse.
The mouse has a slight curve to make it more ergonomic. I've tried a couple of other mice with similar curves, and developed pain in my forefinger and thumb; that wasn't the case with the MX 1100. My thumb comfortably and naturally rests in the cradle of the MX 1100, with my forefinger on the right button and my middle finger on the left button.
In addition to the two main buttons, there's a scroll wheel button, a "Stealth thumb button," and two more thumb buttons on the edge of the mouse. All the buttons are programmable using Logitech's Control Center software, which appears as a System Preference pane. During my testing, I had no problems using the software on a MacBook Pro.
The scroll wheel is a treat to use. A button below the scroll wheel lets you switch between ratcheted movement for precise scrolling, or a free-moving wheel that scrolls faster or slower, depending on how you flick it. Plus, I appreciated the sturdy feel of the wheel, and I didn't have the problem of inadvertently scrolling when pressing down on it.
Two buttons on the upper left of the mouse let you switch between two tracking settings. If you want to boost the tracking, press the plus (+) button. To decrease the tracking, press the minus (-) button. The settings for each button are located in the Control Center software. It's a handy feature to have, especially if you perform work that requires pixel precision such as image editing in Photoshop, for example. You can switch to the slower track while in Photoshop, and then toggle to the faster track when you're done.
Unfortunately, the MX 1100 doesn't come with a rechargeable battery or a charger. It uses a pair of AA batteries, or you can use rechargeable AA batteries, but you must use a separate charger and get an extra pair of batteries for swapping. The MX 1100 operates on the 2.4GHz wireless spectrum, which means you must use a USB transmitter on your Mac.
Macworld's buying advice. The more I use the MX 1100, the more I appreciate its design and features. It's big and beefy, and some may not find the ergonomic design comfortable. But I've found that the MX 1100 is one of the best input devices I've used.
[Roman Loyola is a Macworld Senior Editor.]
Australian availability
Late September
Price as rated
$129.95 ($NZ129.90 in NZ)
Cons
May be too big for smaller hands; may be too heavy for younger hands; right-handed only; no mouse recharger.
Pros
Can toggle between two cursor tracking speeds; feels solid; scroll wheel can toggle between freewheel and ratcheted modes.
Product
Logitech MX 1100 Cordless Laser Mouse
OS compatibility
10.3 (Panther), 10.4 (Tiger), 10.5 (Leopard)
Processor compatibility
Universal
Leave a Comment