Reviews
Let's get this out of the way up front: iMovie '09 is the version Apple should have shipped when it decided a year and a half ago to start from scratch and build a new video editor for iLife.
Instead, the company released iMovie '08, a rough draft of what Apple believed a consumer video editor should be. It offered several welcome feature improvements, especially for people new to video editing who were looking for an iPhoto-for-movies application. However, for users who were already familiar with previous versions of iMovie, those advances were easily overshadowed by its disparity from the mature iMovie HD 6. iMovie '08 not only looked different—throwing away the traditional idea of a timeline running off the bottom of the screen, for instance—but it also lacked many features that had slowly filled out iMovie HD's generous stable over the years.
A few of those capabilities have returned. iMovie '09 can now slow down or speed up clips; export directly to iDVD with support for chapter markers; easily extract audio from video clips for editing separately; and provide a way to make cutaway shots (formerly known as the awkward Paste Over at Playhead command). Themes have also reappeared, and are better implemented than in iMovie HD.
Other features, alas, are still missing. Precise audio editing is still hampered by the inability to control volume levels within a clip. (You can chop the clip into lots of pieces and set the volume for each one, a technique we did away with when iMovie 3 came along; Apple believes this style of audio editing is too advanced for average users.) There's no capability to write video back to tape in a MiniDV camera; tape is yesterday's technology, goes Apple's argument, so why support it? I'm guessing a significant number of people who own perfectly functional DV camcorders can offer reasons. And so far, third-party plug-in support remains a fond recollection of years past.
iMovie '09 didn't just move mostly up to par with iMovie HD, however. Apple has crammed enough new features and thoughtful improvements into this version that you might think they'd rebuilt iMovie from scratch again.
Library management. Following the iPhoto model, iMovie '08 brought your entire video library under the same roof, even footage stored on external hard drives, making it easy to scan other events for footage without opening and poking through other projects. iMovie '09 improves on this housekeeping by letting you choose where to store project files as well; they don't need to all reside on your Mac's internal disk.
In the redesigned Project Library pane, you can relocate projects by dragging them to a different volume, at which point you're given the option to move just the project file or the project and its associated source clips. The pane now provides a filmstrip representation of each project that can be skimmed, played back, or exported without actually opening it for editing. Another option is to view a full-screen preview of your projects with a Cover Flow browser for switching between projects.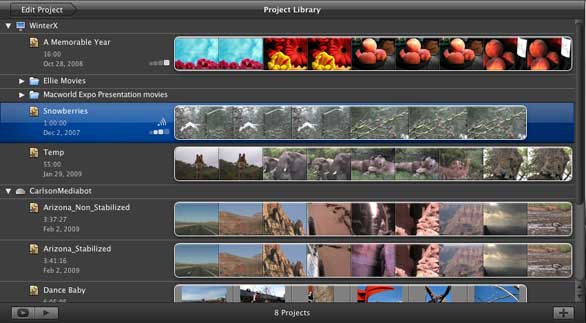 iMovie '09 now supports saving projects, not just events, on external hard disks.
Apple has also addressed one of the problems inherent in the emerging post-tape shooting world. When a tapeless camcorder fills up and you don't have time to import the footage, or you want to make a backup of your master files, you can use the new archive feature to copy the raw video files to a hard disk or other volume. You can then import (and transcode) the archived footage at your leisure.
A steady hand. One of the biggest surprises in home video has been the success of Pure Digital's Flip camcorders, minimalist camcorders (ed. — still unavailable directly in Australia, unfortunately) that offer no zoom and no built-in image stabilisation to offset the camera shake that occurs when shooting handheld video. iMovie's new image stabilisation feature seems designed just for this market.
iMovie '09 can analyze footage either at import or on a clip-by-clip basis later, depending on how much time you want to be away from the computer. Because it's looking at every frame, the analysis can take a while: for example, a slightly bumpy one-minute HD clip imported at the program's Large (960 x 540) size took about four and a half minutes to analyse on my 2.33GHz MacBook Pro Core 2 Duo. The same clip at Full (1920 x 1080) size finished in about five and a half minutes.
My results were mixed, but generally favourable. Don't expect Steadicam results, especially if your footage is highly caffeinated. In those cases iMovie marks the clip with a wavy red line to indicate the shakiness is irreparable; a button at the bottom of the screen toggles whether such sections are visible or not. But for clips that suffer from a little motion, the feature works well.