Nikon 1 J1
Nikon, www.mynikonlife.com.au
Pros
Very small form factor; fast; advanced video features
Cons
Less than stellar video/audio quality; menu dependent for most functions; minimal external controls
$996
Reviews
The J1 is the smaller and more affordable of the two Nikon 1 mirrorless interchangeable lens cameras – a market segment also known as Compact System Cameras.
Both it and the V1 were designed from the ground up around a 10 megapixel (effective) CMOS sensor and feature a new lens mount and a few matching lenses.
In many ways, the J1 is an entry-level camera, particularly for those who want to move up from a point and shoot model, but it has enough manual controls to attract more experienced users as well.
There are four 1 NIKKOR lenses available to use with the J1: VR 10-30mm, VR 30-110mm, 10mm and 10-100mm PD-ZOOM. Nikon has also released an adaptor for Nikkor E-FS lenses, expanding the range of glass for the J1.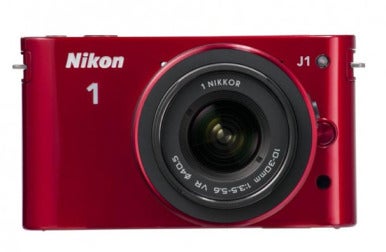 Available in white, black, red, silver or pink, the Nikon 1 J1 body is tiny but well built. Although it measures a mere 10.6cm x 6cm x 3cm and weighs only 235g, most of its lenses prevent the J1 from being pocketable.
Unlike the V1, the Nikon 1 J1 does not have a viewfinder and is equipped with a petite built-in flash.
Operation is pretty straightforward, although consumers should at least browse the user manual to understand what lies beneath the options on the mode dial: Motion Snapshot, Smart Photo Selector, Still Image and Movie. The J1 is menu-dependent for anything above the basics, including exposure modes.
While the control layout is designed for simplicity, the camera is well stocked with features, including manual and semi-manual exposure controls, RAW capture and Full-HD video. In addition to a full complement of video controls (including manual exposure and AF), the J1 offers a few non-standard movie options, including slow-motion video at frame rates of 400 or 1200.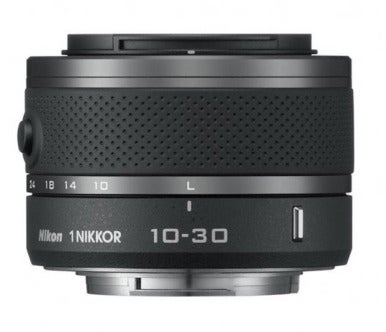 Autofocus is fast thanks to a hybrid AF system that utilises phase detection or contrast-detect AF, depending on the lighting conditions. Unfortunately, it sometimes locked AF in the wrong place, but most test shots were accurately focused.
Continuous shooting starts at five frames per second at full resolution with autofocus, but can zip along as fast as 60fps. The Smart Photo Selector captures a burst of up to 20 frames and then selects the five best shots.
We found that the J1's images looked best when captured under bright lighting conditions. Most shots produced respectable detail and colour rendition was good, with relatively rich and saturated colours. Unfortunately, the tiny flash didn't help much in low light, even after going into the menu system to increase its intensity.
Given the camera's relatively small sensor, image noise was an issue. Pixel-peepers will spy shadow noise at its lowest ISO (100) but it's not bad. Increase the ISO and noise levels rise, of course, so it's best to keep it lower than 800 or shoot in RAW and process the images to reduce noise.
Video quality isn't great, particularly in low light, but is more than sufficient for entertaining family and friends, particularly when shared on the computer. And, despite its ability to capture stereo sound, the audio track wasn't stellar.
Macworld Australia's buying advice.
Given the strong competition in this category and the smaller sensor size, the Nikon 1 J1 may not be for all buyers. But it's a fun camera to shoot with and, in many ways, the little J1 can hold its own.