Reviews
At this year's CES, the Tiffen Company (best known for its Steadicam line) announced its newest addition: the Steadicam Smoothee, designed for the iPhone 3GS, Droid, and Flip. Though not the first stabilisation device to come to market for mobile phones, it's certainly interesting that Tiffen has decided to jump into the fray. Steadicams are staples on any feature film, and the company's choice to start building rigs for the mobile market signals that the industry may be looking more seriously at so-called "camera phone filmmaking."
So, is the Smoothee, well, smooth? From the looks of footage captured at CES (in faux 3D, no less), the results are fairly impressive. This will certainly help you take a great home movie, but I'm hard pressed to find the professional applicability, based on the limitations of the iPhone platform. Even with a stabilisation rig, the iPhone still has a tendency to blur—or worse, jolt—from image to image if moving too fast.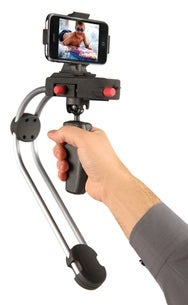 Sure, the portable, flexible Smoothee will help you capture nice video of the kids as you go darting through Disney World crowds, but what happens when you get a call from your tired-of-waiting-in-line spouse? (Let's see if Tiffen's "patented quick-release mount" can get your phone from the rig to your ear before the call goes to voicemail.)
As the Smoothee is currently without a price point or a shipping date, it's still too early to speculate exactly where the device will fit in the current market. However, with big brands like Steadicam now in the mobile accessories business, this filmmaker is starting to wonder what the future of iPhone videography will look like. For now, she'll take solace that no one's made an iPhone mattebox yet.
[via Engadget]