Reviews
Hot on the heels of Fujifilm's 30x optical zoom camera announcement, Olympus rolled out its high-zoom heir to the SP-590 UZ's throne.
The 30x optical zoom Olympus SP-800UZ (28mm to 840mm; F2.8 to F5.6) offers the farthest-reaching telephoto end of any fixed-lens camera we've seen; the just-announced Fujifilm Finepix HS10 also serves up a 30x optical zoom lens, with more coverage on the wide-angle end (24mm to 720mm).
The 14-megapixel SP-800UZ also offers dual image stabilisation (sensor-shift and digital) to steady high-zoom shots, as well as manual controls, 720p high-definition video capture with HDMI-out, a 3-inch LCD, motion-tracking autofocus, and a one-shot panorama mode akin to Sony's Sweep Panorama feature.
That megazoom camera also has a little brother: the 12-megapixel, 15x-optical-zoom (28mm to 420mm; F3.5 to F5.4) Olympus SP-600UZ. In addition to the lesser optical range and megapixel count, the SP-600UZ also has a smaller 2.7-inch LCD.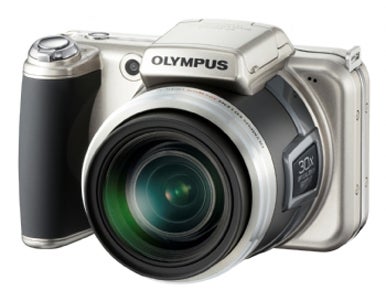 SP-800UZ
The SP-800UZ is slated for March at $A699, while the SP-600UZ is also available in March for $A399.
Two New Olympus Tough Cameras. Along with the megazooms, Olympus also announced two additions to its Tough series of ruggedised cameras.
The more-resilient of the two, the Olympus Tough-8010, is shockproof to drops of 2m, waterproof down to 10m underwater, crushproof to 100kg of pressure, freezeproof to temperatures down to -10 degrees C, and dustproof.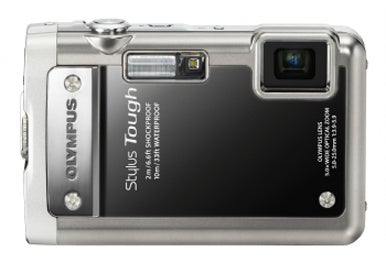 Stylus Tough 8010
The Tough-6020—the "wimpier" of the two—is still no slouch: shockproof to drops of 1.5m, waterproof down to 5m, freezeproof to -10 degrees C, and dustproof.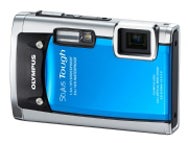 Stylus Tough 6020
Both cameras also have a generous amount of internal memory. The Tough-8010 offers 2GB of internal storage, while the Tough-6020 gives you 1GB of out-of-the-box storage. Both cameras also accept SD or SDHC cards.
Each camera offers a 14-megapixel sensor, a 5x optical zoom lens (28mm to 140mm), an LED light on the front of the camera for underwater shooting, 720p high-definition video recording, dual image stabilisation, a 2.7-inch LCD, and the "Tap Control" feature found on previous Olympus Tough cameras, which lets you change in-camera modes by smacking the sides of the camera.
Both cameras will be available this month; the Tough-8010 is priced at $US400, while the Tough-6020 will go for $US300 (local pricing to be confirmed).