Mac mini (Mid 2010)
Apple, www.apple.com.au
Pros
Attractive, tiny, and rock-solid aluminum Unibody enclosure; easy RAM upgrades; improved graphics performance; HDMI output; built-in SD-card reader
Cons
SD-card slot inconveniently located; higher price than previous entry-level model; slow stock hard drive
$999
Reviews
A little over a year ago, many people talked about Apple's diminutive Mac mini in the past tense: as of the beginning of March 2009, it had been 19 long months since the previous update to Apple's most compact computer, and that update itself came after 11 months of waiting. Two updates in two and a half years? It was easy to believe that the Mac mini had become just as much of a "hobby" as the Apple TV.
But then we saw the March 2009 update to the mini line — the most significant update the mini had ever received. Seven months after that, the mini received another welcome, if minor, update. And here we are, just eight months later, with a new Mac mini in our hands. But whereas last March's Mac mini dramatically improved the guts of the computer and significantly enhanced its connectivity, this one, officially called the Mac mini (Mid 2010), offers more modest upgrades while revamping the mini's design for the first time since the line's debut.
In place of two non-server Mac mini models, priced at $849 and $1099, the new Mac mini comes in a single $999 non-server configuration that offers a 2.4GHz Core 2 Duo processor, 2GB of DDR3 SDRAM, a 320GB SATA hard drive, and nVidia GeForce 320M integrated graphics. (You can upgrade to a 2.66GHz processor as a $210 build-to-order option.) Apart from the new graphics chip — the previous models used the nVidia GeForce 9400M — the specs of the new model fall somewhere in between those of the previous two models, which included a 2.26GHz processor, 2GB of RAM, and a 160GB hard drive, or a 2.53GHz processor, 4GB of RAM, and a 320GB hard drive, respectively. (As before, the mini ships with Snow Leopard and iLife '09.) But these minor spec changes don't tell the whole story.
Heavy metal
The most outwardly obvious change to the Mac mini is its new enclosure. While every previous mini sported a 165.1mm by 165.1mm by 50.8mm case the new model slims down, widens out, and gets a makeover. While still square, the mini is now 197mm to a side but only 36mm tall — almost the exact same size as the Apple TV, but with rounder corners. And instead of using a multi-piece body made of white plastic and aluminium, the new Mac mini adopts the all-aluminium Unibody design of Apple's current MacBook Pro line.

The Mac mini (2010)
With the exception of a black-plastic panel on the back for ports and connectors, and a circular, black-plastic door on the bottom, the body of the mini is machined from a single piece of aluminium. This makes the new mini enclosure slightly heavier than that of the previous models, but the new enclosure also feels much more solid — this is the sturdiest-feeling computer I've ever used. To match the black-plastic pieces, the Apple logo on top of the Mac mini is now glossy black.
Thanks in large part to this aluminium enclosure, Apple claims the new mini is "one of the most material-efficient desktop computers available". The company also states that the new mini is the most energy-efficient desktop computer on the market, using just over 9W of power when idle but awake, and less than 1.5W when sleeping. It's also a bit quieter, and runs at least as cool — in my testing — as the previous model.
Notably missing from the new Mac mini's box is the bulky, heavy power brick of previous mini models. As part of the computer's redesign, and thanks to its lower power usage, Apple was able to reduce the size of the Mac mini's power supply and hide it inside the computer itself. Like the Apple TV, the Mac mini now requires only a thin power cord that plugs directly into the back of the computer. Because of this change, even though the new mini is slightly heavier, at 3 pounds, than the previous model's enclosure, once you take into account the weight of the previous model's external power supply, the new mini is actually about a pound lighter overall.
Media-friendly connections
The smooth-metal front of the mini is interrupted only by a slot for the 8x SuperDrive; on the right-hand end of that slot is the infrared receiver for Apple's Remote, which remains an optional ($25) accessory.
The mini's back panel hosts all other ports and connectors, and there are some nice additions here, as well as a couple of losses. Perhaps the biggest change is that while Apple has kept the Mini DisplayPort connector that debuted last year, the company has dropped the mini-DVI port in favor of an HDMI output — in some ways an acknowledgement that many people use their Mac mini connected to a TV in a home-entertainment centre, but also a reflection of the fact that HDMI connections are becoming more common on computer displays. Apple includes an HDMI-to-DVI video adapter that passes the HDMI port's digital video signal (but not audio) to a standard DVI display; a Mini DisplayPort-to-DVI adapter is again a $45 accessory.
As with the 2009 Mac mini models, you can connect two displays simultaneously and use either extended- or mirrored-desktop mode. The HDMI port supports displays up to 1920 by 1200 pixels, and the Mini DisplayPort connector supports up to 2560 by 1600 pixels. And, as mentioned above, the Mac mini's graphics are powered by the same nVidia GeForce 320M integrated graphics as Apple's current MacBook line; this chip, which uses a minimum of 256MB of your system RAM, offers notably better performance than the integrated graphics in the previous mini line, and it's also optimised for HD output.
When you connect the new Mac mini to a TV via HDMI, the Displays pane of System Preferences and the system-wide Displays menu automatically show available TV resolutions for that TV: 720p, 1080i, 1080p, and so on. In addition, Apple has tweaked the Displays pane of System Preferences to let you adjust the underscan level so the mini's video output better fits your TV screen. These are welcome features for those who use the mini in an AV system, although the included Front Row software continues to provide only the most basic of media-centre functionality, and you'll need to look elsewhere for Blu-ray playback.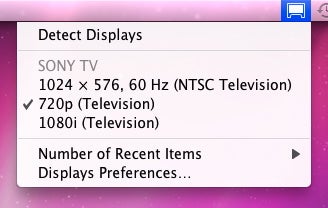 Connect the new mini to a TV via HDMI, and standard TV resolutions appear as output options.
The other big addition to the Mac mini's back panel is a built-in SD-card reader. According to Apple, the slot works with standard SD (Secure Digital) cards of 4MB to 4GB capacity, SDHC (Secure Digital High Capacity) cards of 4GB to 32GB capacity, and SDXC (Secure Digital Extended Capacity) cards of 32GB or higher capacity. As anyone with a recent MacBook Pro can tell you, it's quite convenient to be able to stick a memory card directly into your computer for easy transfers of photos and video. However, by putting the card reader on the rear of the Mac mini, Apple has made accessing the slot at best inconvenient; if your Mac mini is in an AV cabinet, hidden under your desk, or otherwise less accessible, you may end up not being able to use the slot at all.
(To be fair, Apple told us that the compact design of the Mac mini limits where ports and connectors can be placed. Check out the teardown photos of the new mini, from our friends at iFixit, for a good look at the engineering required just to fit everything inside the Mac mini's tiny enclosure.)

The new Mac mini's back panel hosts an array of connections, including HDMI output and an SD-card reader.
The rest of the Mac mini's crowded back panel is filled with a power button, a power-cord jack, an auto-sensing gigabit ethernet jack, a FireWire 800 port, four USB 2.0 ports (served by two buses), auto-sensing analogue/optical-digital audio input and output minijacks (both of which support Apple's current iPhone headset with remote and mic), and an exhaust vent for the mini's cooling system. (The air intake is near the front of the mini, on the bottom, providing what should be an improved, front-to-back cooling system.)
Especially attentive readers will notice two back-panel absences compared to the previous Mac mini: a fifth USB port and a security-lock slot. These were apparently eliminated due to space constraints.
Internally, the new Mac mini provides Bluetooth 2.1 + EDR and 802.11a/b/g/n wireless — Apple didn't officially support 802.11a on the previous model. Apple says the new model should provide better wireless performance thanks to the placement of its two antennas: one in the rear behind the plastic back panel, and the other on the bottom, near the front of the mini, also behind a plastic cover.
Easiest. RAM. Upgrade. Ever.
The new design of the Mac mini has one other benefit, and it's a huge one: easy RAM upgrades. The RAM-upgrade procedure for previous Mac mini models was such an undertaking — requiring putty knives and producing nerve-racking cracking sounds — that we've written at least half a dozen articles on the topic over the years. With the new mini, not only do you not need putty knives, you don't need any tools at all.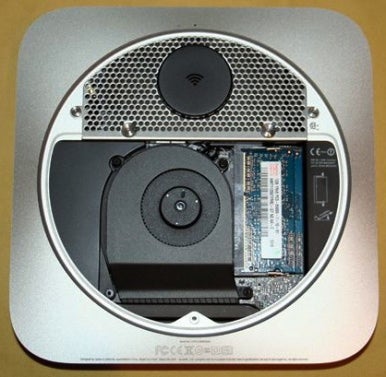 You can upgrade the RAM on the 2010 Mac mini with a simple twist-and-lift of its bottom panel — putty knives are no longer necessary.
The mini's round, black-plastic base sports two small indentations. If you place a thumb in each one and rotate the base a few degrees anti-clockwise, the base lifts off to reveal the computer's SDRAM slots. Pop out the two stock chips, snap in the new chips, and replace the base — you're done. Not only is this procedure dramatically easier than with the previous mini, but, looking back, I can't think of a Mac that's been easier to upgrade — at least for RAM.
That said, the mini's stock 2GB of RAM will be sufficient for many Mac mini owners, and Apple charges only $140 at the time of purchase to bump up to 4GB — a very reasonable price — so you may never need to open up the mini. But it's nice to know that if you want or need to jump up to 4GB — or even 8GB, which is now an officially supported configuration — it's easy to do so.
On the other hand, the procedure for replacing the Mac mini's hard drive, which was even more difficult on the previous model than upgrading RAM, doesn't get the same twist-and-pop treatment. It certainly requires just as much disassembly this time around, as iFixit's teardown shows. We'll have more on this after we get a chance to operate on our own mini. (As with previous Mac mini models, Apple has confirmed with us that you're free to upgrade internal components [including the hard drive] yourself, provided you don't damage the computer in the process. Such damage would not be covered by the Mac mini's warranty.)
Of course, as I noted with the 2009 models, it's debatable whether or not you'd even want to upgrade the hard drive: The mini ships with a 320GB drive, which will be large enough for many people, and those who need more storage will likely be better served by purchasing an external drive: Thanks to the Mac mini's use of 2.5-inch, 5400-rpm laptop drives, last year's models performed better when booted from an external FireWire 800 drive than when booted from the internal hard drive, and there's nothing that would make me think this has changed with the latest model. (The server version of the Mac mini now ships with dual 7200-rpm drives.)
For similar reasons, I recommend against paying Apple $140 to swap the stock 320GB drive for a 500GB model. With 1TB FireWire 800 drives available online for roughly the same price, unless you're using the mini in special circumstances that prevent the use of an external drive, there's little reason to pay a premium for — or take the risk installing — a larger internal drive.
Mac mini (Mid 2010): Speedmark scores
Despite using a much better graphics chip than its predecessors, the new Mac mini falls squarely between the two Late-2009 Mac mini models when it comes to processor speed: 2.4GHz compared to 2.26GHz and 2.53GHz. As such, I didn't expect to see huge performance gains in most programs and, in fact, suspected the latest mini might not be able to match the 2.53GHz Late 2009 model at some tasks.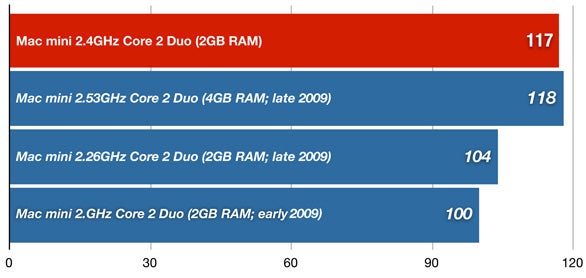 Longer bars are better. Blue bars in italics represent reference systems. Macworld Lab testing by James Galbraith and McKinley Noble.
And that turned out to be the case. The new mini bested both Late 2009 models in our Aperture import, iMovie import, iMovie export, Finder duplicate-a-folder, and Call of Duty tests. But it came in between the two Late 2009 models in our Cinebench render, Mathematica 7, Compressor encode, iTunes encode, Finder zip-archive, Finder unzip-archive, Parallels multi-task, iPhoto 9 import, and Pages open-Word-document tests. In only one test, our HandBrake DVD-rip test, was the new mini bested by both Late 2009 models, and that result was so dramatically different than the other numbers that we're doing further testing.
It's worth noting that, despite these results, the new model's graphics performance was improved enough that it brought the 2010 Mac mini's overall Speedmark score, shown above, within a single point of the 2009 higher-end model, 117 versus 118, respectively.
In real-world use, the new mini handled everyday tasks — web browsing, email, word processing, and Apple's iLife suite — without problem. Only when I had many of these programs open simultaneously did the stock 2GB of RAM become a limitation. If you do tend to keep many applications running simultaneously, I recommend upping the mini's RAM to at least 4GB.
I also used the new Mac mini to play several games, and the performance of Call of Duty 4 with recommended graphics settings was noticeably better on the new mini than on the 2009 models. This isn't a gaming rig, but for casual gamers who don't mind dialling back detail and textures, it will let you enjoy most games.
In a somewhat challenging test, I also played Half-Life 2 via the newly-Mac-compatible Steam service while the Mac mini was connected to a 1920 by 1080-pixel (1080p) Dell display via HDMI. At the display's native 1080p resolution, video and audio were both choppy, but reducing the game's resolution to 1280-by-720 (720p) alleviated this stuttering dramatically. However, according to Valve, the developer of Steam, there's a known issue with nVidia graphics chips under Mac OS X 10.6.4 that adversely affects performance in some games, so take the results of this particular test with a grain of salt — it's possible that the new mini will perform better at this test once the bug has been fixed.
A better mini, but a better value?
As I've noted in previous Mac mini reviews, the mini line has always been about size and value rather than performance — last year's models were actually the first that were powerful enough to fully take advantage of Apple's iLife suite and provide respectable gaming performance. But while most Mac models — and, indeed, most computers in general — have gotten cheaper over the past five years, the price you pay for a basic Mac mini has crept up since the first model debuted in 2005 (though it has varied substantially in Australia due to currency fluctuation).
Granted, today's Mac mini blows the doors off any Mac mini you could have purchased in 2005, and easily bests the previous $849 model. And, in fact, thanks to performance and feature upgrades, the new mini gives you a computer that's better in most respects than last year's $1099 model — for $100 less. But whereas the original Mac mini was a statement product and legitimate switcher bait, the higher price of entry for today's Mac mini throws up a considerable mental hurdle, and, for some people, even a budgetary one.
Would I spend $999 on this Mac mini? Probably. But I've always been a fan of a 'real' Mac in a tiny package. For someone looking for an inexpensive Mac who doesn't care as much about the mini's miniature profile, the higher introductory price is a more difficult case to make than before, even if it does give you a better computer. I'd like to see Apple bring back a lower entry point.
Australian Macworld's buying advice
The Mac mini remains an impressive feat of hardware engineering and design, fitting decent computing power and a solid set of features in a tiny package. And apart from the slow stock hard drive, there's not much to complain about with the latest model — this is as full-featured a computer I've seen in a package this small, and the new enclosure looks great and is built like a tank. As with last year's models, the new mini makes for a great starter or switcher Mac, and it's a solid upgrade for those looking to replace an aging Mac. In addition, the new HDMI output makes the mini even more appealing as part of a home-entertainment system, and the improved graphics chip helps the mini perform well enough to enjoy most games.
In other words, the latest Mac mini is Apple's most versatile desktop computer, and an appealing option for those who don't need workstation-level performance. If you've been considering a mini but passed on the 2009 models, now is a great time to make the jump. On the other hand, the new mini doesn't offer a major jump in performance over the previous generation — only AV enthusiasts desperate for a true HDMI output, or people who'd like to be able to play some of the more-demanding games without splurging for a Mac Pro, should consider upgrading from one of last year's models.
The biggest negative about the new Mac mini is, in fact, its price. While you get a computer that's better than last year's $1099 Mac mini for only $999, that's your only option — the price of entry is $150 higher this year than last.