Reviews
If you buy or rent movies from the iTunes Store, you're already using iTunes as your preferred media organiser and player, especially if iTunes is acting as the gateway to an iPod, iPhone, or Apple TV. But iTunes isn't the only source for digital video—perhaps, for instance, you want to make your DVD collection available on your Apple TV. Although several utilities are available to rip a DVD to a file on your hard disk, iTunes is picky about the settings required to play on the many devices it syncs with.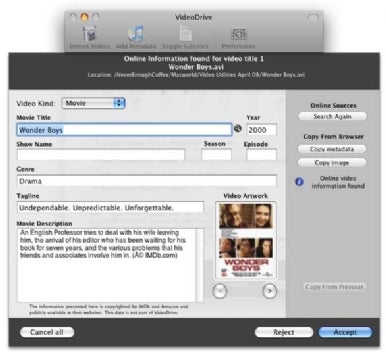 In addition to converting movie files to iTunes-friendly formats, VideoDrive can import useful metadata from the Web.
Aroona's VideoDrive aims to make those conversions easy. Acting as a friendly middleman between your video files and iTunes, it encodes videos using QuickTime (and, optionally, El Gato's Turbo.264 hardware device and software for faster performance), pulls metadata from IMDB.com over the Web, and hands the formatted files to iTunes. If you have Perian and Flip4Mac installed, VideoDrive can also convert nearly any video format for use with Apple devices.
If you have a lot of videos to process, you can drag them to a Hot Folder in the Finder that automatically adds them to VideoDrive's import queue; from there, simply choose how you want the files added to iTunes. I didn't run into any serious troubles using the software; the hiccups that did occur were due to other applications VideoDrive relies on (such as Turbo.264) getting hung up on a dialog box, or finding that a file I was converting already existed in the destination folder. VideoDrive does an admirable job of making video importing easy.
Want to stay up-to-date with the latest Gems? Sign up for the Mac Gems newsletter for a weekly e-mail summary of Gems reviews sent directly to your inbox. You can also follow MacGems on Twitter.
[Jeff Carlson is the author of the forthcoming iMovie '09 & iDVD: Visual QuickStart Guide (Peachpit Press).]
Product
VideoDrive 1.9.6.03
Price as rated
$US20 ($A25)
OS compatibility
10.4 (Tiger), 10.5 (Leopard)
Processor compatibility
Universal
Leave a Comment