Reviews
Like its two iWork cohorts, Pages '09 has received some significant and important updates as part of the iWork '09 overhaul released this week. In fact, after less than a week's worth of face time with the latest version of Pages, it's clear that these updates make Apple's business productivity application a more viable option for all your business needs.
Getting choosy with templates. Pages '09 sports the same, newly redesigned template chooser that is a part of all three iWork applications.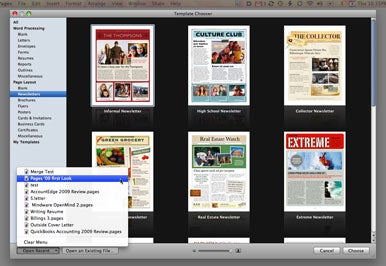 Pages' new Template Chooser gives you quick access to recently opened documents as well as a preview of all the pages available in any template.
While at first this may seem like little more than window dressing, as you make your way through Pages' collection of templates—40 new ones join 140 existing templates for a total of 180—you'll notice that if there is more than one template page associated with the template you're looking at, moving your mouse over the template gives you a preview of all the template's available page types. This preview provides a nice way for you to select your template without first having to open the entire template and view all the pages.