Epson WorkForce Pro WF-4630
Epson, www.epson.com.au
Pros
Fast print speeds; superior print quality; cheap ink costs
Cons
Duplex scanning happens in two passes, slowing throughput
$399
Reviews
Epson's new $399 WorkForce Pro WF-4630 is just the kind of affordable, capable multifunction printer most small offices could use – even if they think they need a laser. A laser MFP may offer better text output (barely), but everything else lines up in an inkjet's favour: purchase price, supply costs and graphics output. Epson's WF-4630 is the avatar for the breed: easily fast enough for small office work and packed with features. It also produces outstandingly sharp text, thanks to Epson's new PrecisionCore print head.
The Ethernet/USB/Wi-Fi-connectable WF-4630 stands approximately 34.2cm high by 46.5cm wide. It's not the massive unit you'll see in a printer room, but the size that sits on a table closer to the action. Output arrives in a fold-out catch above the bottom 250-sheet paper tray. A second, 80-sheet vertical rear feed will handle paper up to 21.6cm x 119.9cm (banners, anyone?) and provides a straighter path for envelopes and photo paper.
The WF-4630 is managed via a 3.5in colour touchscreen and a well thought-out set of buttons, including a keypad for fax duties. Epson's on-display interface is super-easy to navigate, and there's now a preview of scanned documents. Sweet.
The driver dialogue is typical Epson, logically and cleanly rendered. Epson also provides the standard set of now commonplace web, Wi-Fi direct, remote and email printing features with the WF-4630.
Copying, faxing and scanning are facilitated by a letter/A4-size flatbed scanner for single-page documents and an automatic document feeder (ADF) for longer documents. The scanner lid telescopes slightly for magazines and the like, while the ADF scans both sides of documents automatically. Nice. The only thing nicer would be duplex scanning via dual scanner elements rather than re-feeds.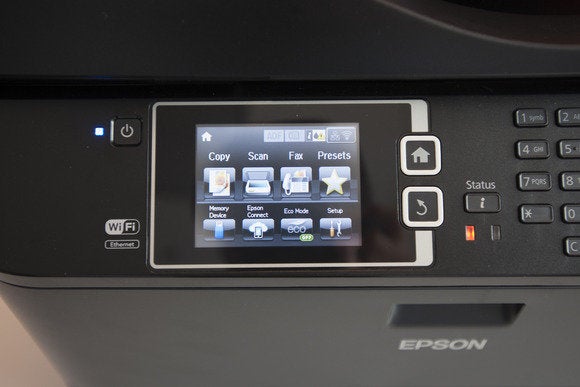 The output from the WF-4630 is outstanding, and I mean outstanding for any type of printer, inkjet or laser. Text is extremely sharp, as are the focus and edges of both monochrome and colour graphics. Colour graphics, while a bit sharper, still offer the usual Epson palette – warm but not overly so.
We did run into one issue with our first test unit, where occasionally lines were offset to the right about four times per page. Our second unit exhibited this flaw in the first run, but rarely after that.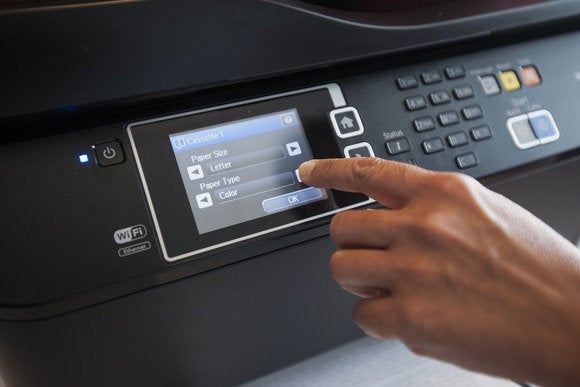 The Epson WorkForce Pro WF-4630 not only produces great-looking documents, it's a very good performer. Standard, letter-sized, monochrome business documents arrived at 14.9 pages per minute on the PC, and 13.4 pages per minute on the Mac. Even better, there's little to no wait time before pages start arriving as with laser printers that need to power down to keep cool.
Full-page photos on plain paper issue forth at approximately 5.5 per minute, while the same photo prints to glossy stock in about 40 seconds. Scans complete at a moderate but workable pace: 10 seconds for a preview, 32 seconds at 600 dpi and just over a minute at 1200 dpi.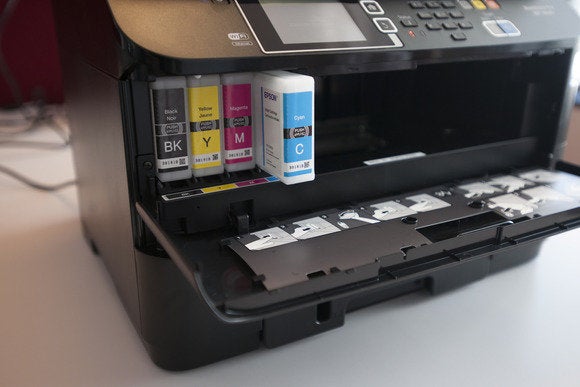 Supply costs are up a hair from previous generations, but still very cheap. When using Epson's standard 1,100-page cartridges ($39.98 for black, cyan, magenta and yellow), ink costs for the WF-4630 are well below normal: 3.6 cents per page/per colour – several cents lower than most consumer-grade inkjets and low-end lasers. The real savings begin with the $59.99, 2,600-page black (2.3 cents per page) and $59.99, 2,000-page colour tanks (2.9 cents per page, per colour).
Bottom line.
The WorkForce Pro WF-4630 inkjet is a sweet little multifunction that does everything well. Supply costs are distinctly better than those of similarly-priced laser printers and low-end inkjets. If you want to spend less time adding paper, the functionally-equivalent $400 WorkForce Pro WF-4640 doubles the capacity of the bottom tray to 500 sheets.
Images by Michael Homnick.