Reviews
If all the iPhone 4 talk at WWDC has you wondering what's happened to the Mac, here's our look at the newest addition to the lineup — the 2.4GHz MacBook — released a few weeks ago to far less fanfare than the new iOS device. From the outside, not much has changed since the previous MacBook was introduced late in 2009, but this spec bump makes the MacBook a strong contender in the lower end portable market, competing well with its MacBook Pro counterpart.
Judge a MacBook by its cover?
In case you missed it, the MacBook moved to a unibody white polycarbonate plastic case last year to bring it more in line with the unibody aluminium construction of the MacBook Pro series. This means its exterior is made from a single piece of polycarbonate plastic, resulting in fewer parts, fewer screws, a lighter weight, and better durability. The unibody design is also sleeker, with a high gloss finish all over, where older MacBooks had a matte-grey surface surrounding the keyboard. The entire bottom surface is rubberised to prevent the MacBook moving around on a desk.
The MacBook also features Apple's glass multitouch trackpad with gesture support, and in this revision gets support for intertial scrolling — the continued glide you might be used to when scrolling on an iPhone (which varies depending on how fast you flick). After using the new MacBook for a while, we've found the smooth, large trackpad more enjoyable than the ones on pre-unibody MacBooks, and the intertial scrolling makes it better than its unibody predecessor too. It takes some getting used to if you've been using the old design, but the change is a good one.
The 13.3in display features the same 1280 x 800 pixel resolution that it has since it became the 13in MacBook, but the unibody models feature LED backlighting, resulting in a bright and beautiful screen.
Inputs and outputs are unchanged from the previous unibody MacBook, and the iSight camera, microphone, sleep status indicator are all where they were previously. The only real difference is that the MacBook's Mini DisplayPort now lets you output audio along with video, so can be connected to an HDMI input on a TV with the right adaptor (this just means you don't have to run a separate audio cable, as was the case before).
It's what's inside that counts
New to the MacBook is a 2.4GHz Intel Core 2 Duo, which takes the place of the 2.26GHz Intel Core 2 Duo used in the previous model. An Nvidia GeForce 320m integrated graphics subsystem also replaces the Nvidia GeForce 9400m integrated graphics.
Like the older system, the new MacBook ships with 2GB of RAM standard, and Apple says that 4GB is the recommended maximum RAM configuration. In case you are wondering, the entire MacBook Pro line ships with 4GB of RAM, with a maximum configuration of 8GB. It's possible to install 8GB of RAM in a MacBook and it would probably work just fine, but if something goes wrong, you'd be on your own: the included warranty and AppleCare won't cover a MacBook with 8GB of RAM.
Is it snappy?
To find out how much these enhancements alter performance, we ran the new MacBook through our Speedmark 6 suite of overall system tests. We found that the new MacBook, with a Speedmark 6 score of 118, was seven percent faster than the 2.26GHz MacBook it replaces, but almost identical to the 2.4GHz MacBook Pro (which shares the same processor and graphics).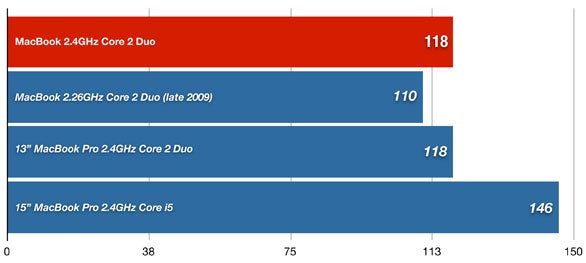 Longer bars are better. Blue bars in italics represent reference systems. Macworld Lab testing by James Galbraith, Chris Holt, Chris Holt, Lynn La, and Meghann Myers.
The biggest gain was in 3D game tests, in which the new MacBook, with its Nvidia GeForce 320M graphics, was able to display 66 percent more frames per second than the older model with its Nvidia GeForce 9400M graphics. The new MacBook's faster processor also helped it post a 10 percent faster Cinebench CPU score.
The new system was also faster in our Photoshop and iTunes tests, but only by a few seconds. Interestingly, some of the hard drive tests (file duplication and unzipping a 2GB file) were a couple of seconds faster on the older model.
Given that the $1249 MacBook and $1499 MacBook Pro boast the same speed scores, is there a benefit in dropping an extra $250 for the Pro? Well, with the Pro you get an aluminium case, FireWire 800, SD card slot, and an extra 2GB of RAM. Depending on your needs, it could be an easy decision to go up to the Pro, but if you've already blown the budget, rest assured that this MacBook can still keep up with the big boys.
Battery life
As with Apple's other unibody laptops, the battery is not user-replaceable, but the new 2.4GHz model has seen an increase in battery life to 10 hours — the same as the 13in MacBook Pros — and up from the 7 hours promised in its predecessor. It will also go through up to 1000 charge cycles (Apple suggests this is five years of typical use) before being reduced to 80 percent capacity. And if you're a heavy user, you can take the MacBook to your nearest Apple store and have the battery replaced for about the same price as you would pay for a battery for an older MacBook.
In our tests, where we loop a movie from the hard drive at full screen, full brightness with AirPort connected to our local network and the volume on (but low), the MacBook was able to run for nearly 5 hours — 58 minutes longer than the MacBook it replaces. It lasted 35 minutes longer than the 13-inch MacBook Pro and 22 minutes longer than the 15-inch MacBook Pro.
Note that our battery tests (and therefore, the results) differ significantly from those cited in Apple's marketing materials.
Limited options
Apple offers a very limited number of optional upgrades for the MacBook. Upping the RAM to 4GB from 2GB will cost $140, and swapping the 250GB, 5400-rpm hard drive for a 320GB drive of the same speed will cost $70; a 500GB drive adds $210 to the price. Faster hard drives, SSDs, or an anti-glare screen are not offered through the Apple Store. To be fair, of these options, the 13in MacBook Pro only offers RAM and SSD upgrades (but they ain't cheap at $560 for 8GB RAM or $490 for a 128GB SSD).
Australian Macworld's buying advice
With its faster processor, improved graphics and longer battery life, the MacBook makes an attractive option for budget conscious laptop shoppers. Performance-wise, the MacBook isn't much different from the 13-inch 2.4GHz Core 2 Duo MacBook Pro — the extra $250 for the MacBook Pro buys more RAM, a FireWire 800 port, an SD card slot, and an aluminium case. But if you're on a budget, this new MacBook is nothing to sneeze at.
MacBook 2.4GHz (Mid 2010)
Cons
4GB is maximum recommended RAM configuration; no FireWire connectivity
Pros
Faster performance; longer battery life; ability to output audio using Mini DisplayPort connection; new inertial scrolling
One Comment
One person was compelled to have their say. We encourage you to do the same..
Leave a Comment