Hints & Tips
Looking to upgrade to FileMaker Pro 13 to take advantage of the great new features? If you run an older version of FileMaker Pro, it is easy to convert your files into the new format.
FileMaker Pro 13 supports the same file format as FileMaker Pro 12 (.fmp12) and will not to be converted. Simply open your files in FileMaker Pro 13 and begin to utilise the new features.
If you previously used an older version, a conversion is necessary but straightforward. Note that .fmp12 files cannot be read by versions of FileMaker Pro before version 12.
Upgrading from FileMaker Pro 7 – FileMaker Pro 11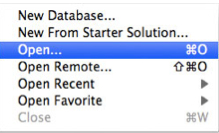 To convert your old .fp7 file, open FileMaker Pro 13 and head to the menu bar. Click File, then Open… and in the dialogue box, select the file that you wish to convert. An alternative method is to drag the older file onto the FileMaker Pro 13 icon in the dock and it will begin. Quick and easy.
In the next conversion dialogue box, you can optionally rename the old file. This is not necessary and you should leave this unchecked. FileMaker Pro will make a copy of the original file and save it in the new .fmp12 format. Archive the original file in the older version should you ever need it again.
A complex database solution may take a moment to convert. Once it has completed, a conversion log (right) will appear that shows you the status of the converted components and will aid you should you experience any issues during the conversion.
And you are done. It is advised that you thoroughly test all functionality of your converted FileMaker solution to ensure that it operates as expected. From that point, you can start to take advantage of the new features in FileMaker Pro 13 such as layout themes for a new look and increased functionality.