News
All last week US Macworld was asking followers of Macworld on Twitter questions about their iPhone use—one question per day.
In total, 356 people sent valid responses by our deadline, where valid means "a legitimate software feature that isn't already available via the stock features of the iPhone or iTunes." (Trust us, the iPhone will ever wash your windows, do your laundry, or make you an espresso—all feature requests we actually received.) We also told followers that MMS and tethering were not valid responses; these features already exist, but some individual carriers—*cough* AT&T *cough*—aren't yet supporting them. Finally, if a person submitted multiple answers, we took only the first one. Hey, we were clear that we wanted the #1 missing feature.
(Intriguing aside: we also had to reject a not-insignificant number of responses because they requested features that already exist. Maybe we need to send those people a copy of our iPhone Superguide? It just goes to show that it's not easy to know every feature available on the iPhone.)
We picked a random respondent, @melvinwalker, to receive a thank-you gift: a custom-made, Macworld-logo, red Sarach Flip Case. His feature wish? To be able to sync only particular notes instead of having to sync all of them.
What you want. The responses to yesterday's wholly unscientific survey were perhaps the most interesting so far. After we went through all 356 "feature requests," we ended up with a whopping 115 unique features. And that's after combining features that weren't exactly the same; for example, we grouped "Bluetooth keyboard support" with "external keyboard support," because even though the latter might include wired keyboards, the gist of the request was, "Please let us connect an external keyboard for extended typing sessions!"
Once we performed that bit of data cleaning, there were 15 specific features that received six or more votes (see the chart, below). Not surprisingly, the top three features, by far, were better app management, support for Adobe Flash, and multitasking (aka, the ability to run apps in the background). Interestingly, many of those aching for a better way to deal with all their installed apps—Macworld's Twitter followers have a lot of apps on their iPhones—offered suggestions for doing so, and those ideas were all over the map. Some want folders and categories on the phone itself, while others would be satisfied if they could move apps between "screens" within iTunes and then have those changes synced to the iPhone. Similarly, the people hoping to be able to run apps in the background vary widely in exactly how they wanted that implemented. A few want Palm Pre-like true multitasking, whereas many just want to be able to listen to Pandora while doing other things.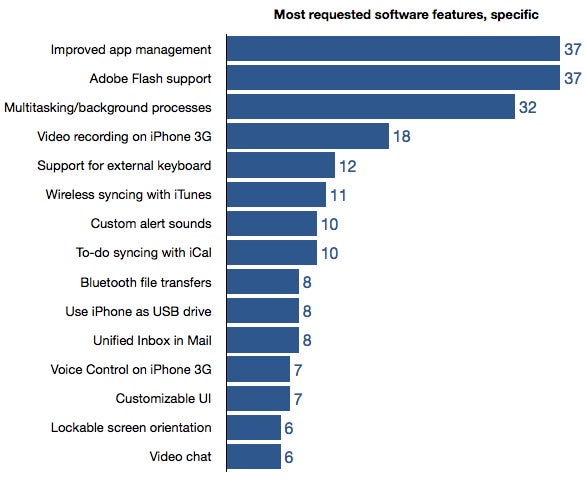 There was a considerable drop-off in the number of votes received for the next 12 items, but that list includes several "missing" features that have generated much grumbling around the Web: video recording on the iPhone 3G, support for external keyboards and custom alerts, wireless syncing, to-do syncing, and a unified Inbox in Mail. The most surprising? To me, it's that six people said, independently, that their number one missing iPhone software feature is the capability to lock the iPhone's screen orientation so it doesn't change when they rotate the phone. (Most mentioned "reading in bed" as the reason behind this request.)
Group 'em. We also grouped the 356 feature requests into more-general categories to see which areas of the iPhone's software received the most pleas for improvement. The top three categories ended up being similar to the top specific feature requests; those items didn't fit into any obvious categories: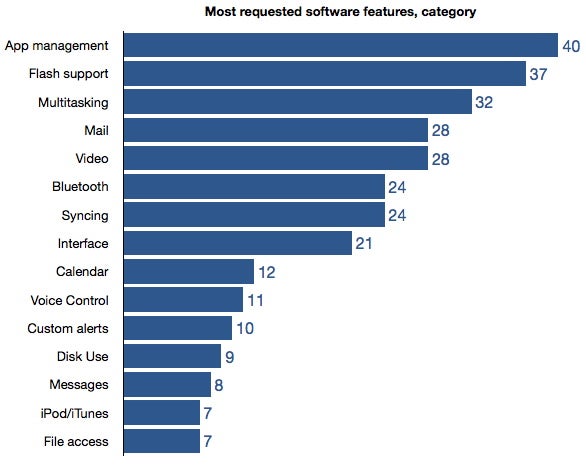 Improvements to Mail, video, Bluetooth, syncing, and the iPhone's interface make up the other categories with more than 20 responses. Here are a few examples of feature requests in each group:
Mail: the aforementioned unified Inbox, a "mark all as read" command, rules, flags, contact groups, better Exchange integration
Video: video on the iPhone 3G, video chat, 720p recording
Bluetooth: transferring files over Bluetooth, keyboard support, AVRCP
Syncing: wireless syncing, to-do-list syncing, third-party data syncing via iTunes, syncing music with multiple computers
Interface: customisation options, lockable screen orientation, quick access to Bluetooth and wireless toggling
If you're curious about category 16—the one that just missed the cut to be included in the chart—it's "nothing." That's right, 7 people responded that they're happy with their iPhone exactly as it is now, and they don't have any feature requests. To which I can only say, "You have achieved technological bliss, and I salute you."