News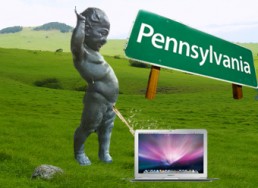 Imagine becoming famous for pissing on US$36k worth of Apple laptops. That's what's happened for an 11-year-old student at Upper Allen Township Elementary in Pennsylvania.
The US boy's actions cost the lives of 30 MacBooks, leaving some debate as to whether he managed to spray all of the computers so sufficiently that they stopped functioning or if Apple will have deemed the urine-soaked Macs' a biohazard.
Cult of Mac suggests that the MacBooks are being written off because Apple refuses to service them now because it considers urine to be a biohazard.
Police charged the boy with institutional vandalism and criminal mischief and are turning him over to the local Cumberland County Juvenile Probation Department.