News
Apple didn't need any product launches to help drive a record quarter. The company has unveiled its financial results for the fiscal second quarter, setting record totals for revenue and profit for a non-holiday quarter.
Apple reported sales of US$13.5 billion and a profit of US$3.07 billion for the three-month period ended 27 March. Sales improved 49 percent from the US$9.08 billion Apple tallied in the year-ago quarter, while profits rose 90 percent from US$3.07 billion. (Note that the year-ago numbers have been adjusted as Apple has adopted new accounting rules in the way it counts iPhone revenue.)
"The strong momentum we experienced in the holiday quarter continued in the March quarter," Apple chief financial officer Peter Oppenheimer told analysts during a conference call to discuss the company's figures.
The company reported earnings per share of US$3.33, up 86 percent from last year's adjusted total of US$1.79. Analysts were expecting Apple to earn US$2.45 a share, according to Thomson Reuters.
"We are thrilled with the record March quarter results and the momentum of our business," Oppenheimer said.
Apple's strong revenue and profit came during a three-month period in which the company had no major product releases. The company's high-profile iPad launch happened a week after its fiscal second quarter ended, while last week's MacBook Pro overhaul was the first change to Apple's Mac lineup since the company introduced new iMacs, a unibody MacBook, and updated Mac minis last year.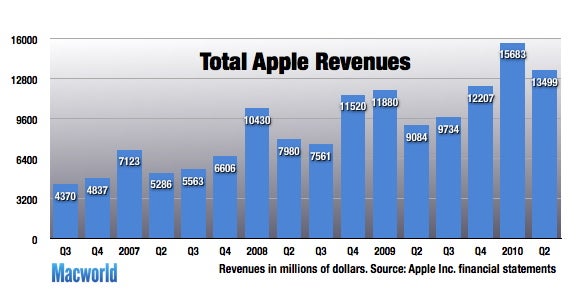 Nevertheless, Apple executives credited strong Mac sales — the best figures ever for the usually quiet March quarter, in fact — and record iPhone sales for the company's stellar showing. "Our very strong performance was due primarily to more than doubling in iPhone sales and strong momentum of Mac products," Oppenheimer said.
Mac "momentum"
Apple sold 2.94 million Macs during the second quarter — a 33 percent increase from the same period last year. This quarter's higher Mac sales were particularly noteworthy, as sales of Macs had actually dipped in the year-ago quarter.
Sales jumped for both desktops and laptops in 2010. For the quarter, Apple sold a little more than 1.14 million desktops, an increase of 40 percent from last year's quarter. Laptop sales rose 28 percent to just under 1.8 million units.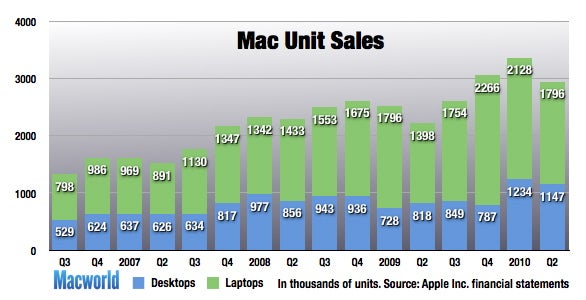 Oppenheimer noted that the 33 percent growth in Mac unit sales outpaced the overall growth of the market. Research firm IDC has the personal computer market growing at 24 percent, according to Oppenheimer.
iPhone sales skyrocket
If Apple executives were pleased with the Mac's performance during the second quarter, they were downright giddy about how many iPhones the company sold. Apple says it sold 8.75 million iPhones, an improvement of 131 percent over last year. Oppenheimer noted that growth rate was more than three times the growth of the overall smartphone market projected by IDC.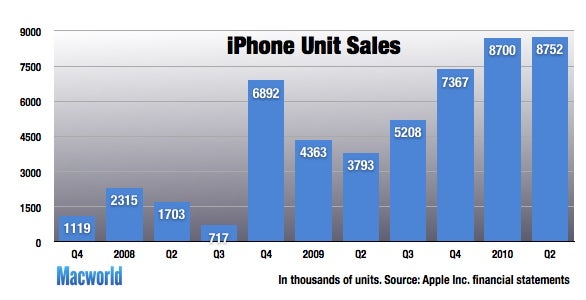 Executives credited the continued expansion of the iPhone for the phone's strong growth rate. All told, the iPhone is now available from 151 carriers in 88 countries.
Apple signed up new carriers and countries during the quarter, said Oppenheimer, citing the addition of Vodafone as a service provider in the UK and Ireland as one of eight carriers added in key countries around the globe. But the company also saw strong performances from its existing carrier partners, chief operating officer Tim Cook told analysts.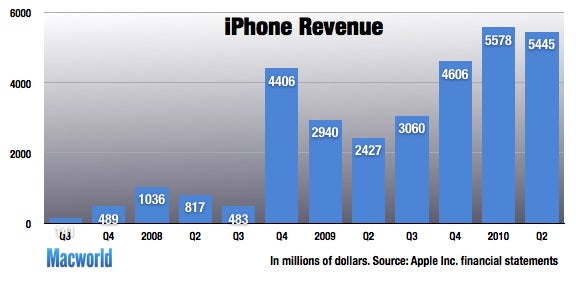 Cook also cited "staggering" growth rates for the iPhone in market around the world. Of particular interest to Australian readers, Asia-Pacific saw a huge 470 percent growth rate, while units grew 183 percent and 133 percent in Japan and Europe, respectively.
iPod dips, iPod touch grows
The picture wasn't so robust for the iPod. Apple sold 10.89 million music players during the quarter, a 1 percent dip from the 11.01 million it sold a year ago.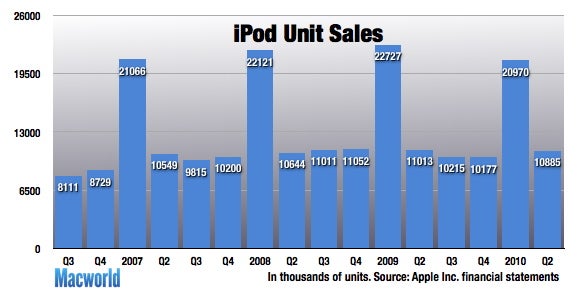 Nevertheless, the higher-end iPod touch continues to be a source of strength for Apple's music-player business. The company says it sold 63 percent more iPod touches than it did during the same period last year. That helped revenue from the iPod business climb 12 percent to US$1.86 million despite the otherwise flat overall unit sales.
Things were decidedly more robust with the iTunes Store, which brought in US$1.1 billion in revenue for the quarter. That marked the strongest quarter ever for Apple's online multimedia and application retail arm, according to Oppenheimer. In February, the company passed the 10 billion download mark for music, while App Store customers have downloaded 4 billion applications for their iPhones and iPod touches. The App Store now boasts more than 185,000 applications, Oppenheimer said, with 3,500 of those optimized to run on the newly shipping iPad.
For the current third quarter, Apple has told analysts to expect sales to range between US$13 billion and US$13.4 billion. The company expects to earn between US$2.28 and US$2.39 a share. That compares to consensus analyst estimates of US$12.97 billion in sales and earnings of US $2.70 a share.
[Updated at 9am (AEST) 21 April with extra information from this morning's conference call.]