News
With iPhone 4 mere hours away from release in certain parts of the world, we thought we'd give you a taste of what Australia can look forward to "by the end of July". What follows is a real-life American iPhone (the only difference is likely to be the power adaptor), in all its unboxed glory.
Unboxing day
The iPhone 4′s box has a large shot of the iPhone running iOS 4 on the front, and a sticker with your ICCID on the back (you'll need this number when setting up your new phone).
Not actual size
The first peek inside the box at the shiny new iPhone 4.
Back in black
The back of the iPhone 4 is made out of aluminosilicate glass. Apple claims the glass is highly durable and compares its strength to sapphire crystal.
Light, camera, action
The iPhone 4′s main camera is 5-megapixels. It sits next to an LED light which can be used to brighten up still photos or videos.
The gang's all here
The box also contains a pair of Apple earphones, a USB power adapter, and dock to USB cable.
Evolution of iPhone
The four generations of iPhone, from the left: iPhone 4, iPhone 3GS, iPhone 3G, and the original iPhone.
A closer comparison
The Phone 4 is 9.3mm thick, the iPhone 3GS and 3G are both 12.3mm thick, and the first iPhone is 11.6mm thick.
How Steve Jobs really plays Jenga
The top four items are iPhones, stacked on top of three generations of iPod touches, all balanced on an iPad.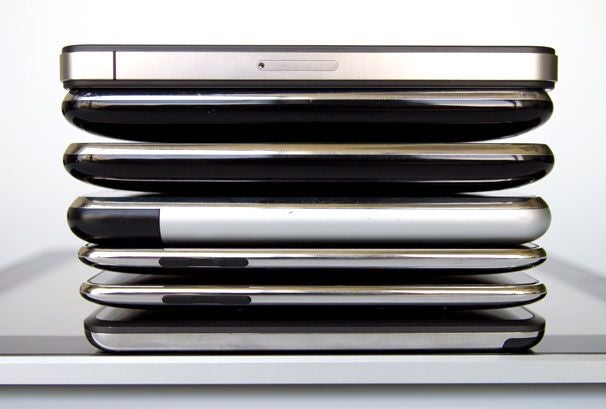 It's amazing how dated the iPhone 3G and 3GS look in comparison to the new model. The "end of July" can't come soon enough.