News
H-Squared has announced the release of the TvTray, a new wall mount designed for the Apple TV. It costs $US50 ($A77).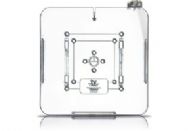 The TvTray is designed to be rotated, so you can turn your Apple TV in almost any direction — making it easier for the device to receive signals from the Apple Remote. It's equipped with standard 75mm and 100mm mount hole configurations, so it's compatible with VESA-standard mounting hardware.
The acrylic material is transparent for a near-invisible installation, and the TvTray features an optional USB-powered backlight to give off a subtle white light from behind the Apple TV.
ed. — H-Squared doesn't have any Australian resellers yet, so you'll have to order this one from the US Apple Store, Other World Computing, or other H-Squared resellers in the UK, Switzerland, Scandinavia, Canada, France, Germany, or Japan.