News
Following on from the flutter that was felt around the internet earlier this week, after Phil Schiller pointedly stopped following both Nest and its founder Tony Fadell, now Apple's senior vice president of worldwide marketing has been a little more direct in his Twitter criticism of a third party.
This time his barbs were aimed, not so surprisingly, at Android.
The tweet sent by Schiller on 22 January links to a Cisco 2014 Security Report that notes a big growth in malware on Android mobile systems. This isn't the first time Schiller has tweeted on the topic. As MacRumors notes, last year Schiller tweeted a link to a report that found Android was the target of 79 percent of all mobile malware threats. iOS on the other hand was sitting on just 0.7 percent.
And things have deteriorated for Google's operating system.
The latest report from Cisco has found "that while overall vulnerabilities are highest since tracking began in 2000, 99 percent of all mobile malware targeted Android devices – leaving iOS devices relatively unscathed thanks to Apple's controlling mobile ecosystem," says MacRumors.
The report does make explain that Apple isn't completely in the clear when it comes to phishing etc though.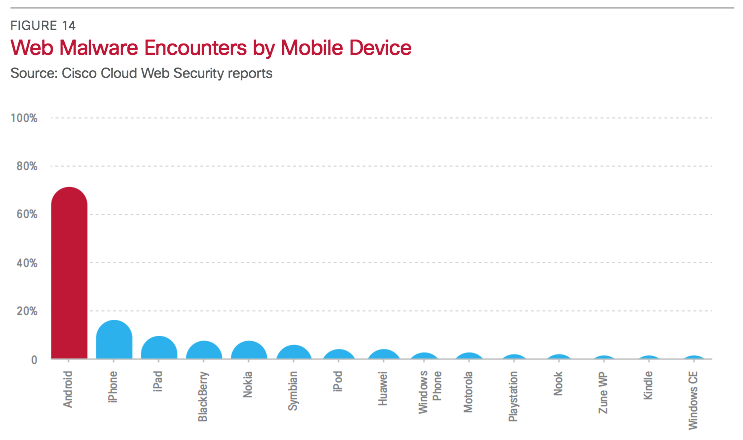 Cisco reveals, "Not all mobile malware is designed to target specific devices, however. Many encounters involve phishing, like-jacking or other social engineering ruses, or forcible redirects to websites other than expected. An analysis of user agents by Cisco TRAC/SIO reveals that Android users, at 71 percent, have the highest encounter rates with all forms of web-delivered malware, followed by Apple iPhone users with 14 percent of all web malware encounters."
Schiller didn't comment in the tweet, but chose to merely forward the link, apparently assured that the data speaks for itself.
We can't help feeling that there was a certain gleeful flourish involved as he pressed send, though…