News
Tim Cook surprised analysts last week. And not because he suddenly whipped out any of the new products that investors, industry analysts and other Apple watchers have long been hankering after.
No, it was because he joked that he was about to.
The occasion was the annual shareholders' meeting on Friday 28 February.
Quoth the Raven, writing for the investing advice website, Seeking Alpha, summed up Cook's unexpected performance by saying, "Arguably, Cook has never come off as cocky, confident and downright mischievous as he did during the company's otherwise boring shareholder meeting this past week."
The nature of this 'cockiness' varied. First, Cook addressed the shareholders with the following, "We want to grow more. And this morning, we want to unveil some new products…" He then delivered the zinger, "I was kidding about the last part."
The Edgar Allen Poe loving commentator interpreted this as Apple being on the verge of genuinely unveiling something huge, with the reasoning that unless you were really in the box seat, who would be rash and confident enough to make such a gag?
There have been various suggestions as to what that huge thing may be, but Cook's comments on Apple TV were certainly fulsome. Reporting to shareholders that the company had sold more than US$1 billion worth of the device and its related content over the past year, he said, "It's a little more difficult to call it a hobby these days."
Horace Dediu of Asymco tweeted a graph putting the numbers into perspective. "A total of 28 million Apple TVs sold so far (since 2007). Total cumulative hardware revenues likely around US$3.5 billion," he wrote.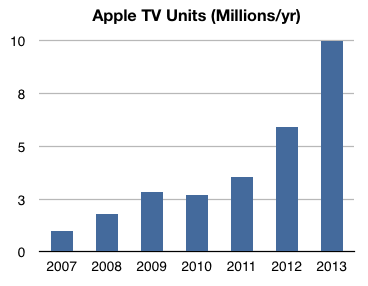 But that wasn't all that Cook had to offer. He also made jokes about not talking about new products, so as not to tip off the competition. "You can see we're getting ripped off left, right and sideways," he said.
The biggest surprise, however, was when the humour stopped. And things went the other way, as Cook dropped his regulation calm and kind demeanour to actually start swearing (mildly) at his investors. What topic could get Tim Cook so hot under the collar he'd resort to the odd 'bloody' here and there? Ethics, that's what topic. Ethics when it comes to running a business that cares about the planet and the people on it, sometimes even before it cares about its bottom line and its ROI.
Perhaps it's an easier position to take when you have billions in the bank, but Apple's shares have been heading in the opposite direction to its profits for some time now. So, to tell investors that if they don't like your company's stance on environmental issues, they can simply take their bat and ball (well, huge wads of cash) and go home is surely the definition of cockiness. Or just sincere passion at the very least.
Cook remained resolute, even when pushed by a representative from conservative think tank, the National Centre for Public Policy Research (NCPPR) to reveal the costs of Apple's sustainability programs and their impact on the company's bottom line. The rep even went so far as to demand that Cook only commit to projects that were "explicitly profitable", says MacRumors.
Insisting that ROI should not be the primary consideration in such matters, Cook said emphatically, "When we work on making our devices accessible by the blind, I don't consider the bloody ROI."
He then added such areas as environmental issues and worker safety to that list, before addressing the NCPPR representative directly, saying, "If you want me to do things only for ROI reasons, you should get out of this stock."
Unsurprisingly, the NCPPR later issued a highly critical press release, with the inflammatory title 'Tim Cook to Apple Investors: Drop Dead'. In it, the think tank accuses the Apple CEO of jeopardising shareholders' profits at the expense of Apple's efforts to combat climate change.
And the fallout? Bloomberg reported that: "Apple Inc shareholders approved the company's proposals and rejected those that the board opposed at its annual meeting, in a show of support for chief executive officer Tim Cook," adding that "Apple shares fell less than one percent to US$526.24 at the close in New York".
Maybe Cook should consider breaking out the expletives more often…