News
If you live in Melbourne at least (the home town of Macworld Australia's offices) it's been hard to miss the advertising for the iPhone 5c. It's everywhere. Not just here on our website (!) but on hoardings around town, notably on that massive one above Hoddle Bridge where Punt Road crosses the Yarra. But the 5c's more well-appointed big sister, the 5s? Nowhere to be seen. Casual observers may have been inferring from this that the sales of the 5c have not been quite as good as hoped since the phone's release on 10 September.
Especially with so many reports of the 5s flying off the shelves… when would-be purchasers can actually find them, that is. With two- to three-week wait times currently being mentioned on on Australia's Apple store, the gold 5s is still featuring a passing resemblance to the old proverbial hen's teeth.
But perhaps it was all a case of 'constrained supply' due to limited availability of certain components after all. And maybe those issues have now been solved and Apple is confident it can deliver, as the first ads for the iPhone 5s have now appeared. It's a print campaign so far and MacRumors claims the first spot was on the back of the prestigious New Yorker magazine (though commenter 'Jmoss4949′ asserts the ad previously appeared on the back of Rolling Stone, 'jcgarza' claims The Week had it over a week ago and 'Jaredly' says it was on the back of Sport Illustrated even before that!) . The ad highlights one of the 5s' most notable features – its Touch ID fingerprint sensor. The copy is as follows:
"Your finger is the password.
Touch ID was created not only to protect all the important and personal information on your phone, but to be so easy to use, you'll actually use it. Its state-of-the-art technology learns your unique fingerprint, so you can unlock your phone or even authorise purchases with just a simple touch.
Touch ID. Only on iPhone 5s."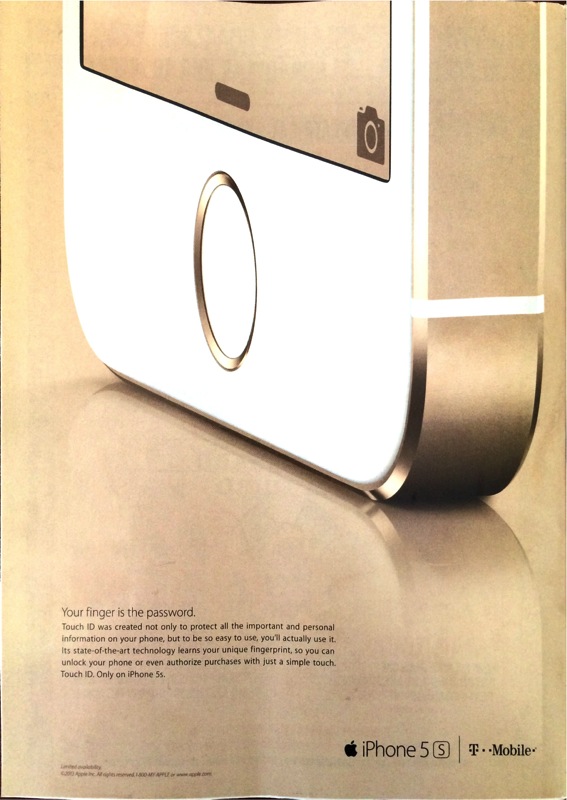 Sam Radford tweeted this photo of the New Yorker laid out and it now appears on blog site, www.idownloadblog.com.
MacRumors notes that even though the appearance of the 5s advertising implies supplies are not quite so tight as they have been, there is still a mention in the teeny tiny fine print of 'limited availability'.
by Macworld Australia staff