News
We complain a lot about the mobile phone industry, but how would you like to actually do something about it? New York Times tech columnist David Pogue is mobilising the armies of the Internet to strike back at one particular dastardly practice of wireless providers: those lengthy messages you get when you're trying to leave somebody a voicemail.
Not only are those messages annoying ("Press '5' to leave a callback number"—really? Who does that?) but they also cost us, the consumer. In fact, Pogue says that several mobile executives admitted to him that the messages are largely there to boost the coveted Average Revenue Per User (ARPU) figure; he calculates that Verizon, for example, could make as much as $US620 million ($A775m) per year from the extra ten or so seconds its customers spend listening to those messages—not to mention the price tag you could put on the time you're wasting.
It's worth pointing out that iPhone users are pretty well off here: not only do they not have to navigate labyrinthine phone trees to listen to their own messages (thanks, Visual Voicemail), but according to Pogue, Apple insisted AT&T drop the pre-beep message for iPhone subscribers. They do have to suffer through the messages when leaving messages for their non-iPhone-wielding friends, though.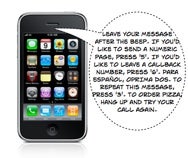 So what do we do? We fight back. To the rallying cry of "Take Back the Beep," Pogue's posted information on how to share your concerns on this topic with the four major U.S. providers. While three of the four only direct you to post complaints in their online forums, AT&T has actually pulled a gutsy move and given the name and e-mail address for its executive director of media relations—you'll find the contact information below.
It may or may not make a difference—too often, speaking with your wallet is the only way to get large companies to reply. But who knows? My quick look at the time of this writing already shows many, many posts about these subjects on the below-linked forums. Hey, if this pans out, maybe we could press for a reduction in those outrageous SMS prices.
So far, Take Back the Beep hasn't spread to Australia in any organised way — but let us know if you have picked up the lobbying down here and have some tips for people who want to register their discontent. Which carriers are the worst offenders? Or do we get off pretty easily here? Share your thoughts in the AMW Forums.