News
The iPod nano will now feature a built-in camera, as Steve Jobs made his long-awaited return and Apple updated its iPod line as part of a music-focused press event in San Francisco overnight.
The new iPod comes in 8GB and 16GB models, priced at $199 and $249, respectively. The music players now feature a video camera and microphone on the back of the device along with a built-in speaker. The nano can display video or sync it back to your computer for uploading to YouTube.
According to Apple CEO Steve Jobs—making his first public appearance at an Apple event since returning from a six-month medical leave—the company added the camera to the nano line to capitalise on the popularity of pocket-sized flash-based video cameras.
Get more details on the new iPod nano
The nano was just one of the changes Apple introduced to its iPod line on Wednesday. The company also cut the price on its entry-level 8GB iPod touch to $269. The 32GB iPod touch now costs $399. In addition, Apple boosted the capacity on the touch with a 64GB model that costs $549. The 32GB and 64GB models are now 50-percent faster and feature support for the Open GL|ES 2.0 graphics API.
Get more details on the iPod touch changes
Despite speculation that Apple might discontinue the iPod classic—the last remaining hard drive-based device in its iPod line—that model remains with an expanded capacity. The iPod classic now features 160GB of storage at the same price as before, $329.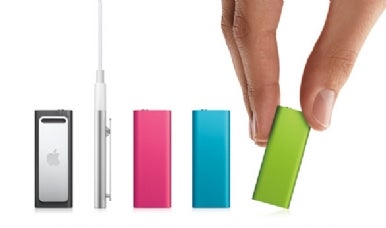 As for the iPod shuffle, it comes in new colours. The 2GB and 4GB models sell for $79 and $109, respectively; a special edition 4GB model made of stainless steel costs $139.
Get more details on Apple's other iPod moves
iPod talk dominated the second half of Apple's Wednesday event, but the company also had software news. A new version of the iTunes is now available, featuring Genius Mixes for creating recommended playlists of music and movies.
Other features in iTunes 9 include Home Sharing, which brings iTunes synchronisation to up to five authorised computers and a new interface for managing iPhone and iPod touch applications. iTunes 9 also introduces a number of improvements to Apple's online iTunes Store, including new artist pages with more visual material added.
Get more details on iTunes 9

Learn about Apple's iTunes Store makeover
Finally, Apple released a minor update to its iPhone software. iPhone 3.1 rolls out some bug fixes in addition to extending the Genius media-recommendation algorithm to recommend iPhone apps to users. The update also beefs up the iPhone OS's ringtone capabilities.
Get more details on the iPhone 3.1 software update or read our first look of its features