News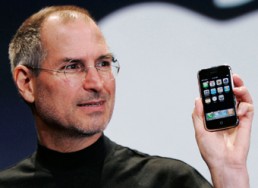 The late Apple CEO Steve Jobs almost gave away the iPhone secret in 2007, just days before the iOS device's unveiling, a former Apple employee has revealed.
Business Insider has reported that Jobs had a group of iPhone team engineers at his home working on a Wi-Fi problem on his iPhone when a courier arrived to deliver a package.
"Steve goes out to meet him because he has to sign for this package, but he's got the iPhone in one of his hands," Business Insider was told. "Steve just walks out casually, drops the phone behind his back, signs the package and the FedEx dude marches off."
According to the former Apple employee, Apple had strict regulations when moving Apple products.
"When we carried the phones to his house, we carried them in these Pelican lock boxes. These phones were never to leave Apple's campus, and Steve just casually throws it behind his back. That was the first time I saw someone casually come close to seeing the iPhone before it was announced, and he didn't even know it. If the FedEx guy had just tilted his head, he would have seen it.
Apple's product secrecy is well-documented, with product development procedures restricting the access of staff and the construction of walls within the facility described as 'lockdown rooms' by Adam Lashinsky in his book Inside Apple.