News
Creaceed has updated its speech recognition application Vocalia for the iPhone and iPod touch.
Vocalia 2.0 offers owners of the original iPhone, iPhone 3G and second-generation iPod touch the ability to access speech recognition features found on the recently launched iPhone 3GS.
Users can ask Vocalia to play songs from the iTunes library and import bookmarks from the Mac to the iPhone, and ask Vocalia to open them in Safari.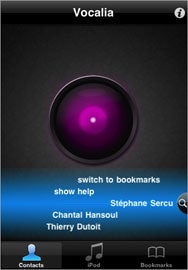 Other Vocalia highlights include the ability to look for contacts in the address book, define additional vocal shortcuts for contact names, and split first and last names of contacts.
Proximity sensing improves speech recognition results in noisy environments says Creaceed. Vocalia 2.0 supports English, French or German.
Available from the Apple iTunes App Store, Vocalia 2.0 costs $5.99 and requires the iPhone 3.0 Software Update.
iPod users require a suitable microphone or headset for speech functions.