News
Figures are coming in detailing the breakdown of sales of the two new iPhones – 5s and 5c – in the US at least. According to data sourced from Chicago-based firm Consumer Intelligence Research Partners (CIRP) and reported by MacRumors.com, since the launch of the iPhone 5s in September, the space gray iPhone 5s has been easily the most popular choice. This revelation is hardly surprising, considering the supply issues that have seen greater availability of that colour compared to the silver or gold options.
Although 43 percent of purchasers have plumped for the space gray option, compared to 30 percent for the silver and 27 percent for the gold, it is possible that those buyers were settling rather than actively choosing – preferring to go with what was available than wait for their first choice.

More interesting and more reliable – considering all colours were readily available from the get-go – is the breakdown of colours for the iPhone 5c. Here, the blue at 27 percent is the stand-out favourite, followed by the white (25 percent), then green (21 percent) and pink (20 percent). The yellow variety appears to be garnering very little love, enticing only seven percent of 5c buyers.
CIRP also looked into the gender breakdown of purchases, with some traditional gender biases apparently in effect. At least when it comes to the pink 5cs being chosen by more females than males, and the neutral white finding greater acceptance from males.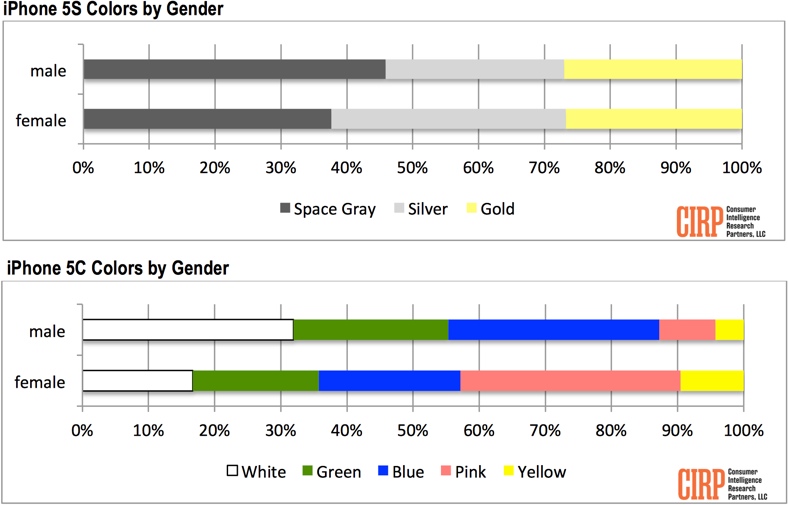 Mike Levin, partner and co-founder at CIRP, told MacRumors, "Interestingly, no one, including the women in the survey, appears to want the yellow iPhone 5c very much." It should be noted, though, that CIRP was working from a fairly small sample of buyers – with just 400 consumers surveyed in the month after the launch of the two models.