News
Apple's success in the music industry is incontrovertible: the iTunes Store has been the top music retailer in the U.S. since 2008. But whereas music has delighted the ears of the company's customers, TV shows have never quite seen the same success. That gives the ring of truth to the Financial Times's report on Tuesday that Apple is pushing content providers to drop the price of television episodes to $1.19.
iTunes's TV prices have never exactly been economical. At $2.99 for a TV episode, it's an expensive proposition to follow more than a few shows. And with increasing competition (in the US) from ventures like Hulu and the networks' own streaming offerings, the sell has gotten even harder: why pay $3 for something you're only going to watch once when you can just stream it online for the cost of a few ads?
While it would be nice to see à la carte TV episodes offered at a more reasonable price, it's hard to see if that would make a dent against the streaming model. Hence reports from last November suggesting that Apple was trying to talk the content providers into a subscription model that would see the consumer pay a flat fee per month. A subscription model would drop the cost for most consumers as well as ensuring constant income for the content provider.
L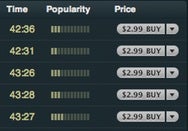 ittle more has been heard about that deal, though there's a possibility it might appear in conjunction with whatever new product Apple's announcing on Wednesday. Then again, either a subscription deal or a price drop might make the content providers concerned that they're giving too much power away to Apple.
Would a $1.19 price tag really make a difference? Customers have shown that they're willing to shell out for individual songs, but the value proposition with music is different: for example, I bought a song last week that I've already listened to probably a couple dozen times. While the natural inclination is to think that a TV show is more valuable because it's longer, there's a sort of inverse relationship with how much of your time it consumes. Plus, shouldn't we all be watching less television anyway?