News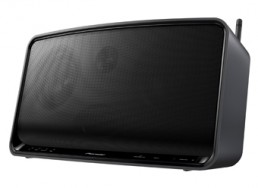 Pioneer has embraced Apple's simple-to-use AirPlay music streaming technology with the introduction of a range of wireless speakers.
There are three models in the lineup: the entry-level $399 XW-SMA1, which has two 3in mid-range drivers and a 1in tweeter; the $499 XW-SMA3, which is essentially the same speaker but is splash-proof and has a rechargeable battery for easy portability; and the $499 XW-SMA4, which is larger, higher powered and adds an extra tweeter and a 4in subwoofer.
Music can be streamed to all the models by connecting them to your home Wi-Fi network. Or, if you don't have one or you've taken the A3 to the park, a Wireless Direct mode creates an ad-hoc network between the Pioneer unit and your Mac or iOS device.
If you're an Android user you can still stream music to the wireless speakers using DLNA. An Aux and USB inputs allow for connecting other music sources – and for charging iOS devices.
Multiple units can be placed around the house and controlled at once or individually using Apple's Remote app. Other apps can be used as well, such as internet radio apps or those from subscription music services such as Spotify and JB Hi-Fi NOW.
"Today's mobile consumers are looking for hassle-free ways to share and listen to the music stored on their mobile devices," says Pioneer Australia Group Product & Marketing Manager Tony Trent.
"They want to be surrounded by great sound, but without the cables and clutter. In our new wireless audio category, our extensive experience in loudspeaker engineering merges with new technologies such as Apple's AirPlay."
At a pre-release hands-on session, Trent told Macworld Australia that Pioneer's Chief Speaker Engineer, Andrew Jones, forced the engineers to strip back every driver used in the wireless speakers until they were the best they could be.
Our first impressions are that the speakers have a full, natural sound with a surprisingly wide soundstage – especially in the A4. The design is appealing, and they're extremely simple to use. Look our for a full review soon.