News
A MacRumors report has just released supposed pictures of a completed 4.7in iPhone 6 rear shell, revealing a number of features that weren't apparent in previous leaks. Both the previous and most recent leaks came from luxury customised iPhone creative team Feld & Volk, with the newest photos offering a first look at a completed rear shell, an embedded Apple logo, external camera ring and a previously-seen long flexible cable.
The completed rear shell shows the volume button cutouts, which are now recessed slightly. In comparison with previous iPhone models, this will reduce the likelihood of accidental volume changes, which weren't common anyway – as long as you had a case for your iPhone.
The embedded Apple logo is a blast from the past – last used on the original iPhone way back in 2007. But the new logo is not the same, with Feld & Volk claiming that it's made of a scratch-resistant metal that they believe could be a Liquidmetal alloy, but this cannot be confirmed yet.

The purported external camera ring measures 6.66mm in diameter and reportedly complies with the camera hole in the rear shell. It is unclear whether this particular external camera ring is for the 4.7in or 5.5in models, or even both.
There is also a flexible cable as one of a set of parts, though this has been seen previously and the jury is still out on whether it belongs to the new iPhone 6 or not.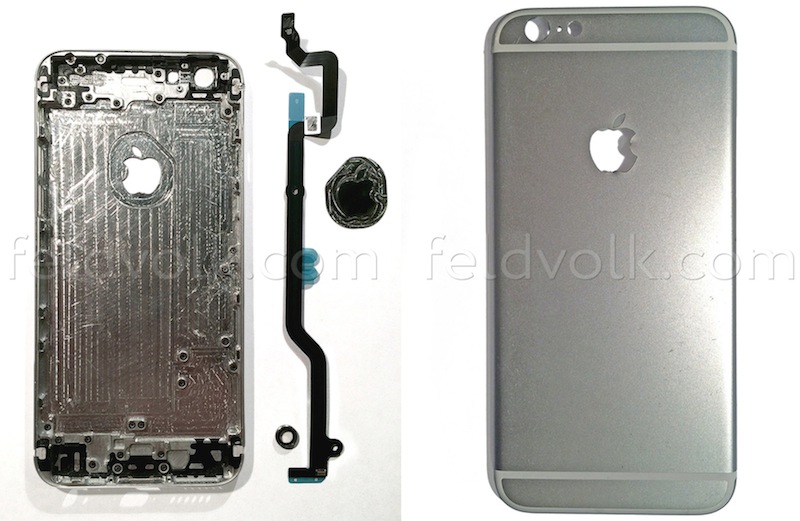 As reported earlier this week, the iPhone 6 in either one or both of its forms is set to be released on 9 September, so in a month's time we may be able to see just how well these pictures stack up against the real thing.