News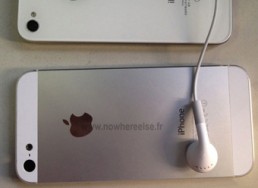 A new set of alleged iPhone 5 images have surfaced, which, if real, could mean Apple's sixth-generation device could have a smaller dock connector.
The new side-by-side images of the purported iPhone 5 and the current iPhone 4S from French website Nowehereelse.fr show a significantly smaller dock to the current Apple connector,  possibly a 7-pin port.
A translation from theNowehereelse.fr report reveals that the "the new connector built into the iPhone 5 should be even smaller than we thought – minuscule compared with the current standard."
"The photo in question is indeed the first of its kind in which we discover that a metal ring completes the connection port built into the framework of the shell that we have already seen on numerous occasions and whose authenticity has been confirmed day by day," Nowehereelse.fr claims.
CultofMac believes the metallic ring around the iPhone 5's dock connector in the images may be a form of "MagSafe-like technology" but "it's a stretch to assume that the ring around the iPhone 5 connector is for MagSafe".
A new 9-pin dock connector seems the logical assumption, with 9to5Mac stumbling on a possible reference to a 9-pin dock connector in the latest iOS 6 beta.
While Apple has not confirmed any change to iOS devices' dock connectors, rumours continue to speculate otherwise.