News
Apple's new iPad is actually kind of a throwback.
According to iFixit, the 9.7-inch iPad that Apple unveiled last week is essentially a spruced-up version of the original iPad Air released in 2013. They share the same battery and the same display. There are some minor tweaks, too, including the integration of the third-generation A9 chip and Touch ID capabilities.
Their teardown confirmed our initial suspicions that, specs-wise, this new model is a minor upgrade. The biggest draw of the new iPad is the price. The 32GB model is $329, compared to the previous entry-level iPad Air 2 that went for $399.
The new iPad actually shares more similarities with the original iPad Air than with the iPad Air 2. Which is a good thing, according to iFixit. Like the Air 1, this new iPad has an LCD and digitiser that are unfused, which makes it easier to repair. In fact, iFixit could fit the LCD and digitiser connectors from an Air 1 into the new iPad but haven't tested if they worked and were actually compatible.
Another near-identical component shared by the iPad and the Air 1 is the display. This finding from the iFixit teardown casts doubt on Apple's claim of a "brighter 9.7-inch Retina display."
"Our question is: brighter than what? It doesn't look that different from the Air 1's display. If they mean brighter than the Air 2, then that may simply be due to reverting to the unfused display design of the Air 1," the iFixit folks wrote.
Below is a photo of the new iPad on the left and the original Air on the right. "The iPad 5 is in silver, and… has less tape?"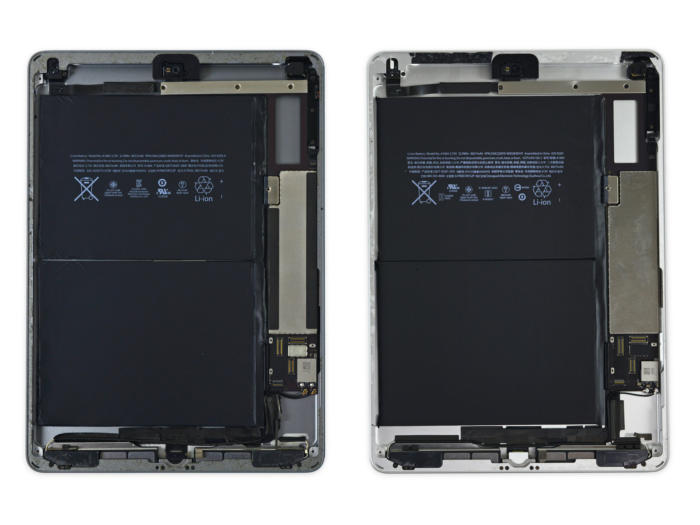 Of course, there are more significant differences than the amount of tape used to secure the internal components. Most notable is the addition of Touch ID sensor to the Home button on the new iPad.
Why this matters: If you were looking to purchase an iPad Air model, then you basically still can. Not only is the new iPad a slightly upgraded version of the original Air, but it's cheaper now, too