News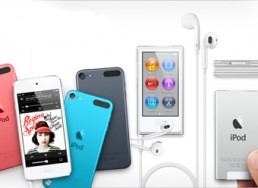 Apple has revealed its fifth generation iPod touch featuring a 4-inch Retina display with a thinner, lighter, taller design and seventh-generation iPod nano with a larger 2.5in Multi-Touch display and a Home button.
iPod touch
The new iPod touch is the thinnest generation ever, at just 6.1mm, and weighs just 88 grams.It has a 4in Retina display, and is made from anodised aluminium. It comes in a range of colours: pink, yellow, blue, white & silver, black & slate.
The new iPod touch is available in two models: a 32GB model for $329 and a 64GB model costing $439. Apple is taking pre-orders from Friday 14 September and the device will be available in October.
The new iPod touch has an A5 processor with dual-core, and dual-core graphics that boosts graphics by up to seven times over the A4 processor.
Apple has given the iPod touch an iSight camera for the first time. It's 5-megapixels camer has autofocus and an LED flash. It also has a sapphire crystal lens cover, and the same Panorama feature introduced with the iPhone 5.
The new iPod touch also has an improved front camera for HD FaceTime.
Apple has brought AirPlay Mirroring to the new iPod touch too.
The iPod touch runs iOS 6, Apple's latest mobile operating system, and even gets Siri, Apple's voice-assistant that was introduced with the iPhone 4S.
According to Apple, the better graphics and bigger display hasn't meant a sacrifice of battery life. The company boasts 40 hours of music playback and up to eight hours of video playback for the new touch.
"With over 350 million sold, iPod is the world's most popular and beloved music player," said Philip Schiller, Apple's Senior Vice President of Worldwide Marketing. "Music lovers may have a difficult time deciding between the reinvented iPod nano, the thinnest iPod ever, and the all-new iPod touch with its stunning 4in Retina display, 5 megapixel iSight camera and ultra-thin design—both in beautiful new colours."
The iPod touch will ship with new earphones, called EarPods. Apple says it spent three years designing the new headphones.
A new Loop accessory is also included. It's a wrist strap that aims to prevent users from dropping the iPod.
iPod nano
Apple today revealed its seventh-generation iPod nano with a larger 2.5in Multi-Touch display and a Home button, making its design more similar to the iPod touch and iPhone devices. It also has physical volume and playback buttons.
The redesigned nano is just 5.4 mm thick, which is almost 40 per cent thinner than its predecessor, and is the thinnest iPod nano ever created. It also comes in a variety of colours, as shown below:
The new iPod nano also features Bluetooth for wireless playback and to support Bluetooth headphones, speakers, and cars. It retains built in Nike+ and other fitness-supporting features (such as a pedometer) and a FM radio. It also uses Apple's new Lightning connector, rather than the older 30-pin dock connector.
The iPod nano also comes with Apple's new EarPods, which Apple claims have a breakthrough design for a more natural fit.
Apple claims that the new iPod nano has over 30 hours of battery life.
The iPod nano will be available in October at $169 for a 16GB model.
The new iPod touch and nano are set to be released in October.