News
It's not enough that the new iPhone X is only a few weeks old; rumors about next year's iPhone are already starting to fly.
A report from China's Economic Daily News claims that an iPhone SE2 (that's a tentative name) is on the way. The report says it will be assembled by Wistron in India (as the current iPhone SE is) and land in the first half of 2018.
This coincided with an report from Focus Taiwan from a few months ago. Is this just a rumor echo-chamber, or independent verification?
Plausible? The current iPhone SE is getting a little old with it's A9 chip. The new one is said to be a relatively simple refresh, with a similar design and size and an upgrade to the A10. That certainly seems likely, considering the target markets and price point for the iPhone SE. But it is unlikely to satisfy those Apple fans who want all the good stuff found in the iPhone 8 and X in a small phone with a 4-inch display.
Faster modems and better antennas
This rumor was reported on November 17, 2017.
KGI Securities analyst Ming-Chi Kuo, always on top of the latest Apple supply chain gossip, says that we'll see much improved cellular baseband chips in next year's iPhones. It will again source chips from both Intel and Qualcomm, but most phones (70-80%) will sport the Intel chip, specifically an Intel XMM 7560 modem. The Qualcomm modem is expected to be the Snapdragon X20.
Both modems support 4×4 MIMO (current iPhones support only 2×2 MIMO) and 5x carrier aggregation, and should work with the newly-deployed 600MHz carrier bands, provided that Apple does all the necessary work on antennas and software.
This means a big jump in maximum cellular performance, including gigabit LTE speeds and support for more frequencies in more areas.
Kuo further claims that at least one iPhone model (probably the largest one) will support dual-SIM dual-standby (DSDS) with both SIMs offering LTE connections. Dual SIMs aren't common in the U.S., but there are some markets where it's an expected feature of high-end phones.
Plausible? Apple is behind its biggest Android rivals when it comes to cellular connectivity. In the right locations, the best Android phones support newer LTE technologies and faster real-world download and upload speeds. All the rumored features would leapfrog today's top-end Android phones, but of course premium 2018 Android devices will likely have these features as well. Getting on par with Samsung and Google's best in this area is something that needs to happen.
Three phones, three sizes
This rumor was reported on November 13, 2017.
Another rumor, again from analyst Ming-Chi Kuo at KGI Securities, is that Apple will have three models of iPhone next year. There will be a new phone the same size and design and the iPhone X along with a "Plus" model that features the same design only with a 6.5-inch display and a higher resolution.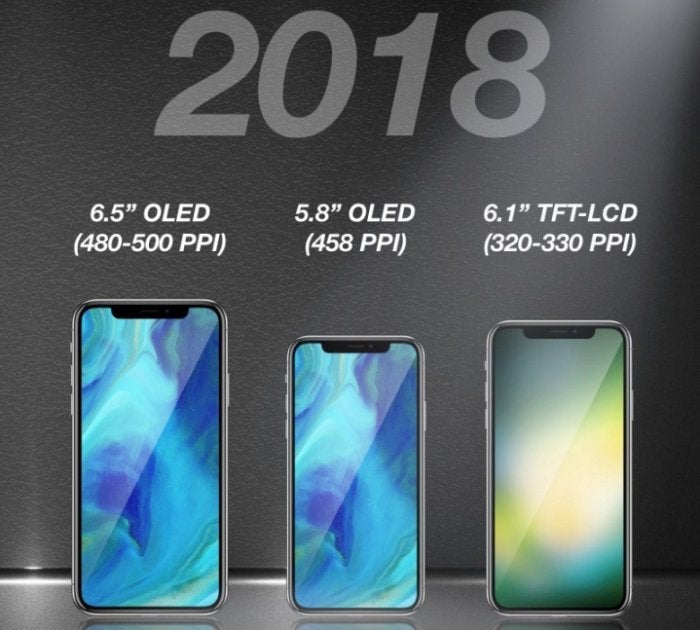 But Apple still needs a new but less expensive model to sell at a lower-than-$1000 price, which Kuo believes will take the shape of a 6.1-inch LCD based phone with the same aspect ratio, but a lower resolution. Kuo believes this phone will be priced between $650 and $750.
The LCD model pictured in KGI's mockup is unlikely to exactly match the final unit. Apple will likely need some bezels on the bottom or top to hold the LCD display control circuitry. But the KGI report does believe the bezels will be much smaller, as Touch ID and the home button will be gone in favor of Face ID and the TrueDepth camera.
Plausible? A bigger plus-size model makes sense, as does a less expensive, lower-resolution LCD model meant to achieve a lower price. But Apple literally folds the bottom of the OLED display under itself to hide the display controller, a trick they can't pull off with an LCD, so we expect a little more bezel in the LCD version. The bigger unanswered question is whether the LCD version will have a single camera, like the non-plus iPhone models today.
More frame parts, faster data?
KGI Securities analyst Ming-Chi Kuo wrote a research note obtained by other Mac news outlets that details his thoughts on next year's iPhone. Kuo believes that the new phone will use a metal frame that is composed of more parts than the iPhone X, in order to improve data transmission quality. Kuo says that orders Apple has placed with Catcher Technology and Casetek are for two frames, one for a phone like the current iPhone X, and another for an iPhone X-like model with a larger screen.
Plausible? A new frame for better data transmission on next year's phone seems to imply that the current iPhone X isn't performing as well as it could be. But we haven't heard about transmission problems. It could be to support faster transmission speeds (like gigabit LTE) or the newer 600MHz LTE frequency band.