News
Prior rumors suggest that Apple is going to replace the iPhone 8/X lineup with a trio of phones: one that is physically similar to the iPhone X, one that is a plus-sized version of that, and a third cheaper model sized in-between with less expensive components, including an LCD display.
A new report from Business Korea claims that Apple will fit that third model with an MLCD+ display from LG—the same technology used in LG's new G7 ThinQ.
MLCD+ takes the traditional red/green/blue subpixel arrangement of most LCDs and adds a fourth white pixel that has no color filter. This allows the display to be much brighter and use less power than traditional LCDs. LG claims that the display can cover 100 percent of the DCI-P3 color gamut, and indeed the G7 ThinQ earned high marks for its bright, colorful, accurate display. It's a step behind the best OLEDs, but ahead of most other LCDs.
Plausible? The rumor source here doesn't inspire confidence, as Business Korea isn't known for breaking fresh details from the supply chain. However, Apple is always concerned about display quality on its new phones and this seems like the most promising mass-producible LCD technology out there. The combination of high brightness (for HDR compatibility and direct sunlight viewing), low power consumption, and accurate colors in the DCI-P3 color gamut sounds like exactly the sort of technology for which Apple would look.
iPhone SE 2 to have iPhone X-style display with notch
Case maker Olixar is already producing a screen protector for this year's iPhone SE (whether it is called the iPhone SE 2 or iPhone SE 2018). It is based on details gleaned from its supply partners in China, not on technical data from Apple. That part isn't unusual.
What is a surprise is that the screen protector is very clearly made for a phone with the general size and shape of the current iPhone SE, but with an iPhone X-style edge-to-edge display with a notch for the front camera.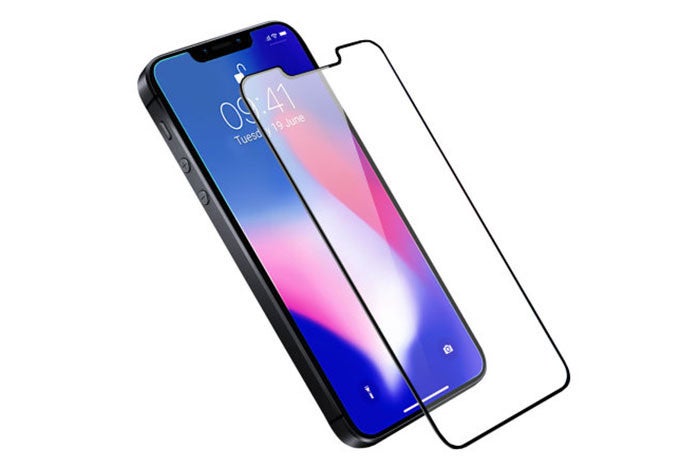 Plausible? We know Apple is all-in on the whole slim-bezel, edge-to-edge display with a notch for the front sensors thing. But the iPhone SE occupies a place way down at the bottom of the iPhone price stack, and we figured it would still be a couple years before it got a display layout to match the iPhone X and the other new iPhones coming in 2018.
A year ago, Olixar correctly predicted the form factor of the iPhone X, too. Maybe it got lucky, or maybe its sources are really good. If this comes to pass, we expect the iPhone SE 2 to be an even more popular choice among those who want a smaller iPhone, but we're worried about ballooning prices.
What's more, this screen protector leaves no room for a Touch ID sensor, and the notch is too small for the TrueDepth module used in the iPhone X. So either Apple is adding a costly new smaller TrueDepth module to it's bottom-end phone (not likely), or is incorporating a pricey and unproven through-the-display fingerprint reader (not likely), or is putting a Touch ID sensor on the back (ehhh…), or is going to ship a phone with no biometric authentication method (yikes!).
We still expect the 2018 model of the iPhone SE to be announced in the next month or two, so I guess we'll find out soon enough.