News
Long before Apple started selling its iPad Air, more than double the number of consumers in the US asked for price quotes on their older tablets than last year, a pair of buyback companies said.
The trade-in activity hints at strong early sales for the iPad Air.
"It's a huge upgrade from the earlier iPads," said Anthony Scarsella, chief gadget officer at Boston-based Gazelle, one of the companies that buys used consumer electronics. "It's much lighter and thinner."
Scarsella said Gazelle's trade-in price quote volume was up 130 percent over October 2012.
Jeff Trachsel, chief marketing officer at NextWorth of Billerica, Massachusetts, cited a similar statistic. "Compared to last October, our quote volume is up 127 percent," Trachsel said. "iPad trade-in quote requests came in early, peaked higher and have maintained their level longer than last year."
Join the family
Last year, Apple unveiled the fourth-generation 9.7in iPad and the iPad mini on 23 October and began selling both on 2 November. This year, Apple hosted its iPad introduction on 22 October and started iPad Air sales today. The refreshed iPad mini, which will sport a higher-resolution Retina screen, will reach retail sometime later this month, Apple has said.
Both Trachsel and Scarsella credited the redesign of the iPad Air – the tablet is 20 percent thinner and 29 percent lighter than its predecessor – with consumers' increased interest in unloading older tablets.
"The design change," said Scarsella when asked what drove the higher trade-in volume at Gazelle. "We see that with the iPhone as well. Interest spikes every two years when Apple changes the look of the iPhone."
An amplifier, Scarsella said, was the fact that the iPad has had the same basic design since it first appeared in 2010, making the iPad Air even more desirable by the Apple faithful.
Aftermarket thrives
The electronics 're-commerce' business has exploded in the last several years as consumers and businesses have realised their devices retain value. Companies like NextWorth, Gazelle and a host of others specialise in buying used tablets, smartphones, personal computers and even game consoles, then reselling them on eBay or in bulk to distributors in developing countries where demand is high but incomes are low.
As the practice has become more mainstream, buyback companies have regularly recorded increases in the number of trade-in quotes they dispense and the number of devices that they purchase. Because of the higher prices Apple charges for its goods, and the devices' high resale value, iPhone and iPad owners seem to be especially eager to cash in on their old devices so that they can buy the newest ones.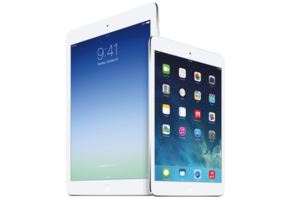 The third-generation iPad has been the most popular tablet consumers hope to sell, with NextWorth pegging its percentage of all October quotes at 35 percent and Gazelle citing 31 percent. Apple launched the third-generation iPad in March 2012. In second place was the 2011 iPad 2, accounting for 20 percent of NextWorth's quotes and 22 percent of Gazelle's.
Relatively few of the quotes provided by NextWorth (17 percent) or Gazelle (12 percent) have been for the fourth-generation iPad, which debuted a year ago.
Quotes for the original iPad mini tailed off significantly after the 22 October announcement by Apple that it would not start shipping the revamped 7.9in tablet until later this month, Trachsel and Scarsella said.
"I think that most people with a mini are going to stay with the [Retina] mini," said Scarsella, explaining the trade-in fall-off. He expected interest to resume once Apple reveals when it will begin selling the tablet, which will start at $479, $130 more than last year.
"In September, iPad mini quotes were up five times from the month before," said Scarsella. "People that own that tablet are ready to upgrade. They're not getting a lesser product in the mini this year because it has the same components as the iPad Air. It's just a different-sized screen."
by Gregg Keizer, Computerworld