News
UPDATE 4.3.2014: It has been announced that iOS in the Car now has a nifty new moniker. CarPlay is the name and Honda, Hyundai and Jaguar have also signed on to include the feature in select models, while up to 12 more automotive makers are in line to support it in future models. These include Ford, Chevrolet, Toyota and Nissan. See the bottom of the article, for further details of the new service from our US sister site, Macworld.
According to reports, Apple is now ready to introduce its launch partners for its iOS in the Car initiative, which was first mooted nearly a year ago. The Financial Times (subscription needed) writes that Apple's initial partners will be the high-end automotive brands, Volvo, Mercedes-Benz and Ferrari.
The FT claims that an official announcement of the move will be made this week at the 84th Geneva Motor Show, which takes place in the Swiss city from 6 to 16 March and is considered one of the premier events on the automotive calendar.
MacRumors notes that The FT doesn't actually name iOS in the car as the operating system in question, but "claims drivers will be able to use Apple Maps for navigation on the car's in-dash screen, as well as watch movies, listen to music, make calls and send text messages through the system with full Siri integration…." which all points fairly conclusively to iOS being the system under discussion.
During last year's Worldwide Developers' Conference in June, Apple described iOS in the Car as a vital part of its "ecosystem" and cited a wide range of partners, including Honda, Nissan and Chevrolet, as well as the three brands expected to be announced this week.
As to why these are the first partners to get the nod, MacRumors does note that Eddy Cue, Apple's senior vice president of Internet Software and Services, is a board member at Ferrari.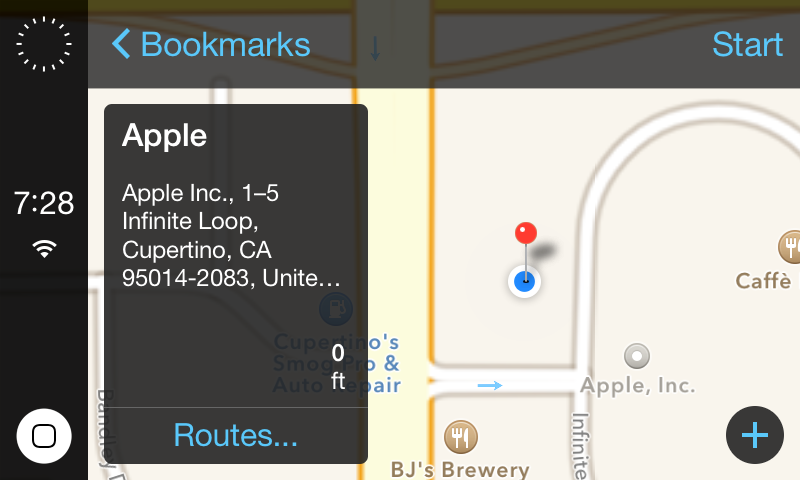 From Macworld:
Apple already offers some car integration through Siri Eyes Free, which lets drivers of compatible automobiles control the virtual assistant over Bluetooth with a steering wheel button. But CarPlay integration is much deeper, allowing iOS to take over the entire infotainment system.
Instead of baking iOS directly into the dashboard, car makers will supply a Lightning connector for plugging in an iPhone. The phone then powers the system, letting users get directions with Apple Maps, listen to music, answer phone calls and respond to text messages by voice. A handful of third-party audio apps will also support CarPlay, including Beats Radio, iHeartRadio, Spotify and Stitcher, with more apps to come.
All CarPlay vehicles will support voice controls, so users can activate Siri by holding down a button on the steering wheel. Some cars will also have touch screen controls for CarPlay, while others will use knobs, buttons or dials. The system will require an iPhone 5 or newer, running iOS 7.
Apple isn't the only tech giant with eyes on the automotive world. At CES in January, Google announced its own initiative to bake Android into car dashboards, with Audi, General Motors, Honda, Hyundai and Nvidia as partners. Microsoft also offers its own platform called Sync for Ford vehicles, but Ford recently said it would be switching to BlackBerry's QNX system instead.
Apple's plug-in system may not be as convenient, but at least it can ride on top of existing systems, potentially giving CarPlay much broader reach.
by Jared Newman