News
Despite recent reports that say Google's Android market will soon have 100,000 mobile phone apps, Google is still far short of the 225,000 apps available for the iPhone. But Google is enlisting a new weapon in its attempts to overtake Apple's numerical advantage — you.
With Google's App Inventor for Android, a tool first unveiled a year ago and now available, anyone can build an application for Android smartphones.
"To use App Inventor, you do not need to be a developer. App Inventor requires no programming knowledge," Google says. "This is because instead of writing code, you visually design the way the app looks and use blocks to specify the app's behaviour."
App Inventor is in beta and those interested have to fill out a form. "We will be granting access to App Inventor for Android over the coming weeks," Google says.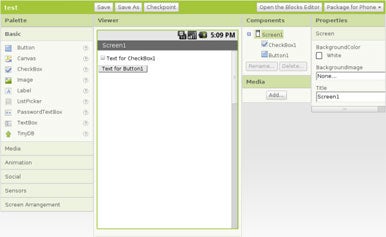 App Inventor
Google has tested the software in schools "with groups that included sixth graders, high school girls, nursing students and university undergraduates who are not computer science majors," according to the New York Times.
Google says "you can build just about any app you can imagine with App Inventor" One app already built with App Inventor is a simple "WhacAMole" game. Sample apps displayed by Google include a quiz game about Super Heroes, a drum kit, a parking spot locator that utilises Google Maps on Android Phones, and an app letting people find the location of their friends.With App Inventor, amateur developers will not be limited by their lack of coding knowledge, Google said. Inexperienced app builders will be able to take advantage of nearly any capability inherent in an Android phone.
"The App Inventor team has created blocks for just about everything you can do with an Android phone, as well as blocks for doing 'programming-like' stuff — blocks to store information, blocks for repeating actions, and blocks to perform actions under certain conditions," Google says. "There are even blocks to talk to services like Twitter."
Some examples of App Inventor's capabilities include the following:
"Apps you build can even store data created by users in a database, so you can create a make-a-quiz app in which the teachers can save questions in a quiz for their students to answer."
"Because App Inventor provides access to a GPS-location sensor, you can build apps that know where you are. You can build an app to help you remember where you parked your car, an app that shows the location of your friends or colleagues at a concert or conference, or your own custom tour app of your school, workplace, or a museum."
"You can write apps that use the phone features of an Android phone. You can write an app that periodically texts 'missing you' to your loved ones, or an app 'No Text While Driving' that responds to all texts automatically with 'sorry, I'm driving and will contact you later.' You can even have the app read the incoming texts aloud to you (though this might lure you into responding)."
"App Inventor provides a way for you to communicate with the web. If you know how to write web apps, you can use App Inventor to write Android apps that talk to your favourite web sites, such as Amazon and Twitter."