News
Three years after rumours of a Google phone first surfaced, the search giant has taken the wraps off its own branded and designed mobile phone, the Nexus One.
Initially available in the US on T-Mobile's network or unlocked, Google said the phone will also become available from Verizon as well as Vodafone in Europe. [Click here to watch a video of the phone in action]
Customers can buy the phone now on a new Google Web page, Google.com/phone. It's $US530 ($A585) unlocked. The phone costs $US179 ($A200) with a T-Mobile contract. The Vodafone and Verizon options are expected to be available sometime in the first quarter. [ed. -- Australian availability has not yet been announced, and the official Google site says the phones are not available in Australia yet --  although the fact that the phone is being sold unlocked should make it easy for Australians to order online via an intermediary such as priceusa.com.au].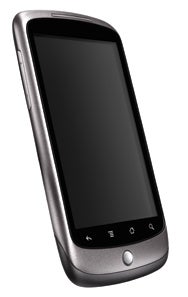 Buyers must use Google Checkout to buy the phone and must have a Google log-in.
HTC made the phone—photos and details of which were leaked online in advance of Tuesday's announcement. The device has a 3.7-inch OLED display and runs a 1 GHz Snapdragon processor. It's 11.5 mm thick.
The trackball pulses light to alert users of events like new e-mails or text messages. The phone has light and proximity sensors, in addition to a compass and accelerometer. The light sensor will automatically dim the display when a bright light isn't necessary. The proximity sensor also dims the display light when a user moves the phone to the ear to talk.
The 5-megapixel camera includes an LED flash and takes MPEG 4 videos.
The phone also has two microphones, one in front and one in back, enabling noise cancellation. That means when users are in a noisy environment, the background noise is cancelled out.
In the demonstration during a webcast press event, the phone response seemed zippier than that of the Motorola Droid, perhaps due to the fast Snapdragon processor and upgraded software.