News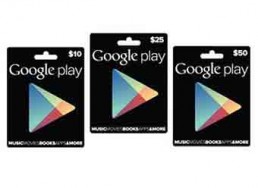 Google Play has rolled out gift cards for its online store in select US retail outlets, in similar fashion to Apple's iTunes content service.
US customers can now purchase $10, $25 and $50 Goolge Play gift cards from vendors including Target, RadioShack and GameStop. The cards are also available online at US retail franchise Walmart.com.
Like iTunes, the Google-branded cards will allow consumers to purchase apps, music, movies and television content. Details of when the cards will be released in Australia have not been announced yet.
The Google Play store is the first serious contender to rival Apple's iTunes store as an online source for buying digital content to access on desktops and mobile devices.
Originally called the Android Market, Google Play was revamped and re-branded earlier this year, in a bid to accommodate the release of several new devices from Google,  including its Nexus 7 tablet and Nexus Q media streaming device.
Google introduced both products at the company's 'Unpacked' event this year, and the Nexus 7 has since gone on to sell millions of units.
Meanwhile the Nexus Q failed to launch in the winter as planned, due to early negative reviews. The Nexus Q – a competitor device of the Apple TV – allows streaming of Google Play content from Android devices to home entertainment systems. The new release date for the Nexus Q has not been confirmed.
Although Google has a way to go before it launches all the components of its up-and-coming digital content ecosystem, the company looks set to  establish itself as Apple's greatest competitor in the market so far.
Check out our comparative review of Google's Nexus 7 tablet vs Apple's third-generation iPad here.