News
iWeb '09 lets you create attractive websites quickly, but quickly isn't always fast enough. The following tips will help you save time designing, publishing, and sharing your creations with the world. There's no time like the present to work faster, so let's get started.
1. Optimise Images on Import. The large file sizes of today's digital photos can make publishing your site a lengthy process. To shrink file sizes by up to 60 percent while retaining image quality, make sure your photos are optimised when imported into iWeb.
Select iWeb -> Preferences, then check the box beside Optimise images on import.
2. Decorate your site with medium-resolution photos. To get even smaller image sizes with just a little more work, export them at medium resolution from iPhoto instead of dragging them directly to your pages from iWeb's Photos browser. These smaller files will still look good on your site while providing even shorter uploads and faster, smoother image resizing in iWeb on older Macs. Depending on your pictures, you may be able to shave several megabytes off each image.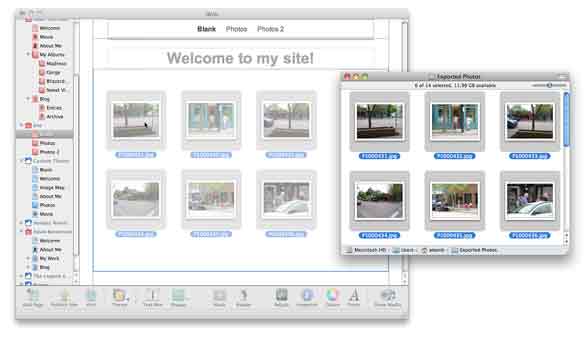 For faster publishing and better performance, decorate your site with medium-resolution photos exported from iPhoto.
In iPhoto, organise in an album the pictures you want to use. Select the album in iPhoto's sidebar and choose File -> Export. In the resulting window, set Kind to JPEG and set JPEG Quality and Size to Medium, then export the pictures to a folder on the Desktop. Drag the pictures into iWeb and arrange them on your pages.
3. Use different Domain files for multiple large sites. If you plan to create several large, media-rich sites, consider giving each one its own domain file. These smaller documents will open more quickly than one monolithic file that contains all sites.
Save your work in iWeb, then quit the application. In the Finder, navigate to youruserfolder/Library/Application Support/iWeb. Select the file named "Domain", then choose File -> Duplicate to make one copy for each site you want to create. Rename these copies according to their content to differentiate them from each other, then double-click each file to open it. Delete extraneous sites in them, or create a new site for your project as needed. Be sure to retain your original Domain file if it has sites you want to keep.
Note that because iWeb's File menu offers no Open command, you'll have to double-click each file to open it (simply launching iWeb will open the site you edited most recently). However, you can move these new domain files to a more convenient location on your Mac for easier access.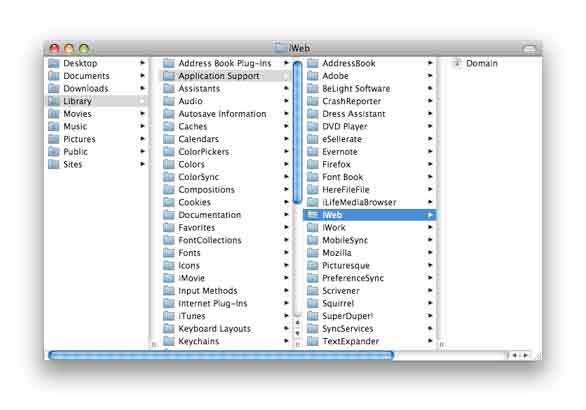 By duplicating iWeb's Domain file, you can split up large projects into smaller files.
4. Import iMovie videos saved at the Mobile setting. It's tempting to share iMovie videos at the highest possible resolution for the best quality, but smaller files will publish faster and can be viewed on a wider range of devices, including iPhones.
In iMovie, select your video and choose Share -> Media Browser. Check the Mobile option and click Publish to export the video to the iLife Media Browser. In iWeb, select View -> Show Media. Click the Movies button, then select your video from the iMovie library and drag the new video onto your page.