News
In an interview with CNBC yesterday, Flappy Bird's creator Dong Nguyen announced that the popular iOS and Android game will return to Apple's App Store in August this year.
Nguyen, who lives in Hanoi, Vietnam, famously removed the app earlier this year, after its soaring popularity led to him being inundated with requests and comments on social media. In February, the free-to-download app, which had been sitting at the top of the charts for around a month and apparently earning over $55,000 a day from in-app ad sales, disappeared from the App Store.
The 28-year-old developer told reporters, "You go from just being some dude with a video game you made to having your phone ringing off the hook from journalists, ad network sales managers, middleware providers, and everyone in between trying to ride on your coattails."
He took to Twitter to reveal how beleaguered he was feeling.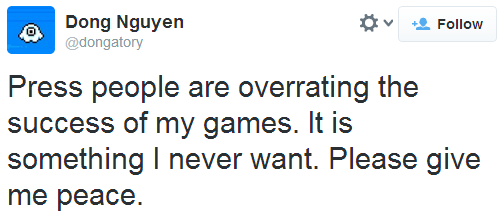 He also was having something of an apparent moral crisis – explaining to Rolling Stone that he was worried about the game's addictive nature. He'd been told by one woman that he was "distracting the children of the world", while another complained, "13 kids at my school broke their phones because of your game, and they still play it cause it's addicting like crack," which reminded him of his own 'misspent youth' playing video games, such as Counter-Strike.
But a bit of R&R (or maybe mounting bills) seems to have eased his conscience somewhat. In the CNBC interview, he told Kelly Evans that his updated version of Flappy Bird will include multiplayer capabilities and be "less addictive", although he neglected to mention how he'd accomplish the latter feature. He did note, though, that he also has a new game ready for release – a jumping game, which entails players directing a character as it jumps from building to building.