News
Multiple sources are reporting today that Dong Nguyen, the developer behind the wildly popular, but devilishly difficult iOS game, Flappy Bird, has removed the app from Apple's App Store.
The game, which was free to download, had been sitting in the No. 1 spot for nearly a month and was reportedly earning up to $55,800 a day in revenue from the in-app ads.
So, Nguyen's decision to remove the game can't help but beg the question: why would someone kill the golden goose, er, flappy bird that is rolling in the kind of financial success most developers can only dream of?
Fame, it seems is the answer. Though maybe the money isn't all heading Nguyen's way. On 7 February he tweeted, "I don't think I am rich from this. And also, if it is I am also not the first one [sic]."
Nguyen has previously expressed his struggle with the attention the game has brought him. As TouchArcade reported last week, sudden unexpected success can be utterly overwhelming in this sphere. "You go from just being some dude with a video game you made to having your phone ringing off the hook from journalists, ad network sales managers, middleware providers, and everyone in between trying to ride on your coattails."
The site also reprinted another tweet from Nguyen, which is no longer showing up in his account.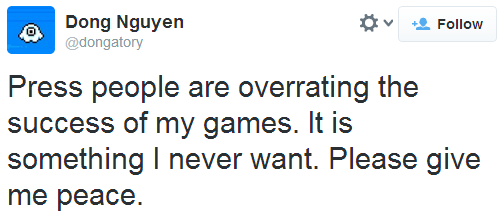 It's certainly true that many of his tweets over the last week or so imply he has been hounded mercilessly because of the game, which he insists is "just a mini game". "I can call 'Flappy Bird' is a success of mine. But it also ruins my simple life. So now I hate," was his unambiguous statement on 8 February.
He also responded to questions of legality (there have been suggestions that some elements of the game owed much to Super Mario Brothers), saying, "I didn't directly stole something. It is quite an art to doing that
" He also refused offers to buy the game, tweeting on 9 February, "I never sell my things."
It all finally got too much, with Nguyen tweeting yesterday that he had decided to remove the app, and making good on his word today.
As MacRumors notes, the game no longer shows up in search, Nguyen's app listing or the Top Free games. While the game's direct link is still in the App Store, it cannot be downloaded.
Of course, previously downloaded versions of the game will still be playable… (which may not be the best news to parents everywhere who are trying to get their children out of the door and off to school in the mornings).
Will you be sorry to see the end of Flappy Bird? Or will you be like the MacRumors commenter who responded to an earlier "I miss it already" with "I don't, but then I have a high-score of 6 so I'm probably just a sore loser…"