News
No matter how prepared you might be for life's unexpected bumps and contusions—first aid kits in the cars, a Red Cross CPR certification in your wallet—there's always the possibility that when a real medical emergency arises, it won't be within easy reach of a first-aid kit or someone who's taken CPR. But you may have your iPhone on you.
iPhone apps provide a handy way to refresh a memory that's gone blank in the face of an emergency or to provide first-aid knowledge you never thought you'd need. I took a look at four first-aid apps, with a clear winner emerging out of that quartet.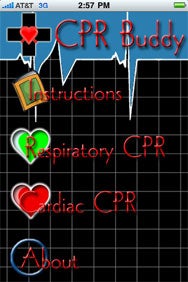 Pick Your CPR: CPR Buddy helps users time the rate at which they administer chest compressions for both respiratory CPR and cardiac CPR.
If CPR Buddy is going to be useful in an emergency, anyone who has Divide by Zero's $1.19 app on their phone would do well to familiarise themselves with it ahead of time. CPR Buddy is meant to help users time the rate at which they administer chest compressions—click "respiratory CPR" or "cardiac CPR"—via a series of timed beeps. However, this requires users to be familiar with the distinction between the two types of CPR. If someone's relying on an iPhone application to help them in an emergency, is it safe to assume they understand the difference? It seems unlikely, given who this app is aimed at.
One thing I did like about CPR Buddy: in the respiratory CPR cycle, the beeps change tone when the user is supposed to switch from chest compressions to rescue breaths. That's a handy audio cue.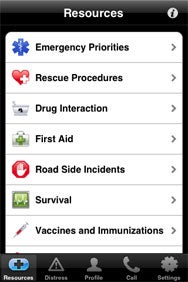 For Your Reference: American Medical Aid combines a reference guide for first aid and emergencies with an emergency contact sheet.
Creative Coefficient'sAmerican Medical Aid is a combination first aid manual/emergency contact sheet. The $3 app's Resources section provides clear instructions by different emergency category (drug interaction, road side incident, and so on).
But American Medical Aid has a problem with how it presents some info. If you need to look up instructions on how to survive a hotel fire (under Survival), for example, it might help if the instructions were less wordy and more step-by-step with pictures. Nobody wants to read in an emergency.
Still, the app's Call area, which lets you program in your medical and emergency contacts, is a smart idea, as is the feature that lets you convert your iPhone into a blinking distress beacon.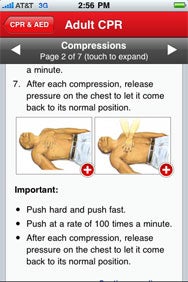 Get Info: You navigate through Pocket First Aid & CPR's collection of first-aid info via a series of drill down menus.

Pocket First Aid & CPR from Jive Media organises its content via a series of drill-down menus. One of the nicer features in this $4.99 app is the hyperlinking: terms that are printed in red with a thin line around them are clickable, and users can then drill through to learn more information. This comes in handy when you're trying to treat one malady (a head injury, for example) and it turns out to have been caused by another (a seizure).
The biggest nitpick: in reviewing the CPR information in Pocket First Aid & CPR, the information about placing your rescuer's hands during the chest compressions is slightly misleading. But that may be due to the differences between how the Red Cross teaches the procedure and how the American Heart Association does.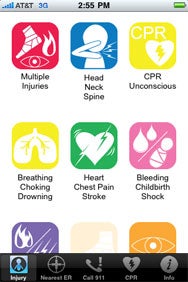 Colours, Coordinated: ResQr First Aid and CPR Coach uses colour-coded icons to help panicky people quickly find information during an emergency.
ResQr First Aid and CPR Coach from Think Safe is a great layperson's tool for emergency situations. The navigation buttons at the bottom of the screen let someone look up CPR instructions, call 911, look up the nearest emergency room, or get quick instructions on treating injuries.
When you click the $7.99 app's Injury button, a graphic, colour-coded group of icons comes up—again, perfect for helping panicky people find the information they need quickly. Once the user clicks on the injury category—Breathing, Choking, Drowning, for example—the software asks yes and no questions ("Is the victim breathing?") and displays treatment instructions depending on the input. This is a great way to walk people through performing unfamiliar tasks in stressful situations.
Any reference work can be puzzled through when the user is calm; a portable first-aid guide needs to provide information to its users in the middle of stressful situations. ResQr First Aid and CPR Coach is a reference guide that Red Cross card-carriers and rookies alike can appreciate.
All four apps are compatible with any iPhone or iPod touch running the iPhone 2.x software update.
[Lisa Schmeiser is a writer based in the San Francisco Bay Area. She has been certified in American Red Cross CPR and lifeguarding since 1987.]