News
EyeTV users need never have to stray to far from the warm loving glow of their favorite TV programs after Tuesday's arrival of the EyeTV app in the App Store. Elgato Systems' $5.99 app for the iPhone and iPod touch lets EyeTV users watch live TV and recordings on their iPhone 3.0-running mobile device.
The key phrase in that setup is "EyeTV users." To take advantage of the mobile app, you'll also need EyeTV 3.2, Elgato's desktop TV software, installed on a Mac that has a compatible TV tuner connected to it.
But if you have those parts in place, the EyeTV mobile app brings a lot to the table. It connects to any Mac running EyeTV 3.2, automatically finding the machine on a local network courtesy of Bonjour. A free My EyeTV locator utility lets the iPhone app find and access a remote Mac.
In addition to watching live TV and recorded programs via the EyeTV mobile offering, users can also browse a programming guide and use their iPhone or iPod touch to start recording TV shows or scheduled future recordings back on their home computer.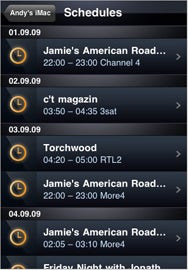 There's more than one way to watch TV on your iPhone, of course. Equinux's $5.99 Live TV can stream TV programs from your Mac to your mobile device. (As with EyeTV, Live TV requires some supporting hardware and software—the TubeStick hybrid, which is a digital analog TV receiver for the Mac, and The Tube desktop software.) Apps like Television aggregate programming while other apps offer streams of specific events—take CBS Sports: College or MLB.com At Bat which offer iPhone and iPod touch users streams of live US college football and professional baseball games, respectively [the latter two are not available in the Australian iTunes Store -- ed.]