News
With WWDC 2014 just hours away, we have pulled together the latest rumours, speculation, images and opinion from around the Apple world to give you a comprehensive list of what you can expect from the event tomorrow morning.
Apple's executive team will be on stage from 3am AEST at San Francisco's Moscone West Center to announce the next generation of Apple software and hardware. Speculation would have us believe Apple will show off a new mobile operating system, a new Mac operating system, a health-focused app and advancements to the iBeacon technology.
So what are the latest rumours?
iOS 8
Like WWDC 2013, Apple is expected to launch the next mobile operating system for iPhone, iPad and iPods at the Moscone West Center on Tuesday. iOS 8 is also likely to follow iOS 7 in that a preview will be all we get to see before an official launch towards the end of the year.
But what will iOS 8 bring? The rumours believe Apple will offer a number of tweaks to iOS 7, which was a significant shift way from previous iOS updates.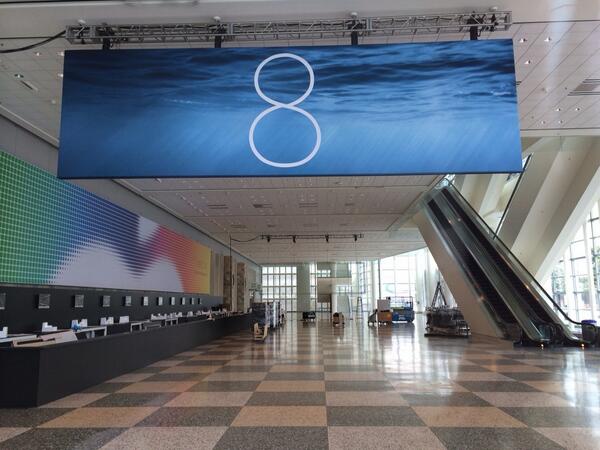 Banner currently hanging at the Moscone West Center. Source: BusinessInsider's Jay Yarow.
Healthbook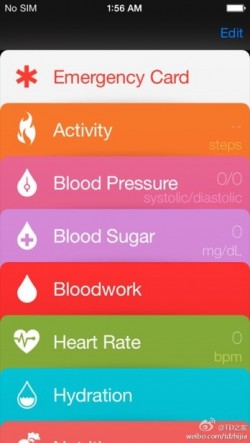 The biggest addition to iOS 8 is thought to be a new application called Healthbook. Healthbook will offer iOS users various health and fitness information and possibly resemble the Passbook application in design. The rumours state that the app will be able to track heart rate, blood pressure, nutrition, blood sugar, sleep, respiratory rate, oxygen saturation, weight and activity.
Macrumors is certain it has found two trademark fillings related to the Healthbook name and a screenshot (shown right). The site reports:
"First is a pair of filings protecting Healthbook itself and a two-word variation of Health Book. Rumours and a leaked screenshot have indicated that Apple has been planning to use the one-word variation, but it is understandable that Apple would want to protect both versions. The applications were filed on February 3 of this year, just days after the name was publicly revealed." 
The Healthbook application may also be influenced by any future wearable products that Apple is planning to release.
The New York Times' Brian Chen has this to say from an anonymous source:
"The health app will initially pull data from third-party fitness and health-monitoring hardware, the person said, but it will most likely be able to connect with a smart watch that Apple is widely expected to release this year."
Maps
Maps is thought to receive a major update with improved mapping data, better readability and a number of new features. Apple's launch of Maps was a debacle, but it is believed Apple's next update will markedly improve the usability of the app.
iTunes Radio
Apple may decide to make iTunes Radio a standalone app in iOS 8. The move would make the service more prominent on the screen of users and, with the recent acquisition of Beats Electronic, the service may see a significant improvement in the coming months.
Multitasking
Apple will not show off the split-screen multitasking feature rumoured to be a part of iOS 8 at WWDC 2014, according to reports, with the feature still requiring more work.
The news is courtesy of The New York Times' Brian Chen via Twitter, who says it is "still a work in progress".
The feature is expected to appear in iOS 8 for iPads, allowing users to view two apps at the same time in landscape mode and may include the ability for apps to interact with each other. The interaction is rumoured to enable users to transfer text, links and images from one open app to another.
iCloud applications
Apple is thought to be considering the introduction of TextEdit and Preview for iOS in iOS 8. The applications would allow users to edit PDFs, images and text documents that are stored in iCloud. The apps are not expected to be ready for WWDC.
Other updates 
Voice Memos – Apple may redesign the Voice Memos app after some user complained that it was hard to navigate in iOS 7.
Messages – 9To5Mac believes Apple will introduce auto-deleting threads for Messages. This would delete Message threads after a period of time, e.g. one year.
OS X 10.10
In a similar manner to iOS 8, Apple is expected to unveil a preview of OS X 10.10 at WWDC. The name of OS X 10.10 is still unknown, but will follow the new trend of California locations Apple introduced last year with Mavericks. Apple filed a number of trademarks in April, including Yosemite, Redwood, Miramar, El Cap, Redtail, Condor, Sonoma and Ventura. The banner that has been risen in the Moscone West Center shows a rock formation and has lead to rumours that Yosemite or El Cap maybe the new name.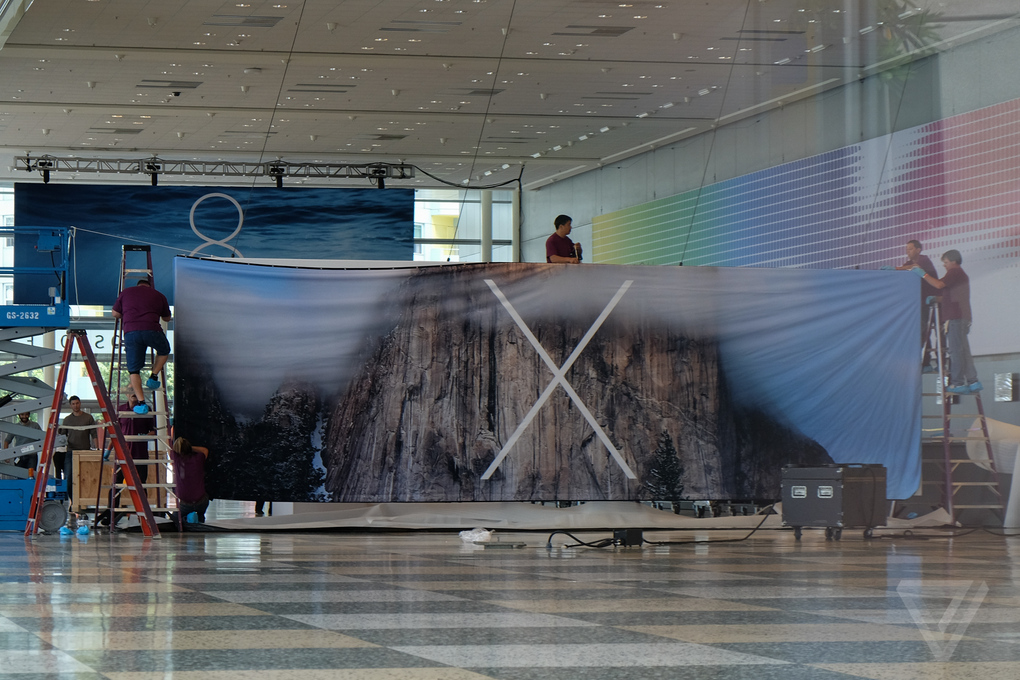 New OS X banner. Source: The Verge.
Redesign
The rumours around OS X have been slim. However, with the complete overhaul of Apple's mobile platform with iOS 7 thanks to Jony Ive, there have been rumours that OS X may also receive a new look. This could come with a flat design, like iOS 7, and feature more vibrant icons, transparent windows and increased white space.
The new design could come with a few new features. The Maps app may receive an update, AirDrop may become compatible with the iOS equivalent and Siri could be unveiled on the Mac.
iBeacon
Apple will promote its iBeacon technology at WWDC, according to a report from The Wall Street Journal, with Apple placing transmitters around the Moscone West Center for visitors to interact with. The company will also offer sessions for developers on using the technology in apps. How Apple will utilise the technology into the keynote is unknown.
Hardware
There has been a limited number of rumours surrounding hardware announcements for WWDC, with many expecting Apple will focus on the second half of 2014.
However, possibilities include:
New MacBook Air with Retina display
Larger iPad
New Apple TV
iWatch