News
Photoshop CS4, Adobe's flagship product, has been updated as part of the release of Creative Suite 4. The latest versions of Photoshop and Photoshop Extended offer a variety of new features aimed at helping users get the most from everything, whether it's 3-D imaging or traditional image editing.
Highlighting the new features in Photoshop CS4 is Content-Aware Scaling. This addition allows users to take a large image and resize it without losing the most interesting areas. Users can select an area of an image that you do not want to lose when resizing and Photoshop will protect it, making sure to remove other areas first.
Content-Aware Scaling automatically recognises skin tones to keep people from being squeezed out of the shot. As a user resizes the image, people in the shot may become closer together or farther apart, but they will remain in the image properly proportioned while background elements disappear.
Nondestructive corrections in the Adjustment panel allow users to change things like Curves, Levels, and Hue/Saturation without navigating through dialog boxes. The panel also features modifiable presets for each type of change, including more than 20 new preconfigured, customisable starting points.

With Photoshop CS4's Content-Aware Scaling capabilities, users can take a large image…
Adobe also says the latest version of its image-editing program taps into the computer's graphics processor unit (GPU) to give Photoshop even more power. Using the GPU and OpenGL, Photoshop can zoom down to the level of individual pixels, with perfect clarity—even at the oddest magnification percentages, according to Adobe.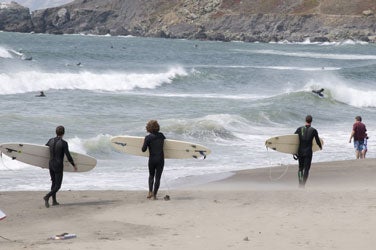 … and resize it without cropping people out of the shot.
Integration with Lightroom, Adobe's professional photography workflow application, has been improved in the new version of Photoshop. Users can now open multiple photographs from Lightroom 2 directly into a layered Photoshop document, high dynamic range (HDR) image, panorama, or Smart Object.
In addition, since Lightroom 2 and Adobe Camera Raw share the same underlying technology, changes made with Camera Raw 5 in Photoshop CS4 will be recognised in Lightroom 2, and vice versa.
Photoshop Extended will feature some advanced 3-D features allowing designers the option to manipulate 3-D from within Photoshop. Bryan O'Neil Hughes, Adobe's Photoshop product manager, said the 3-D engine has been completely rewritten in CS4. Adobe added 15 new 3-D tools in Photoshop CS4, according to Hughes.
The Photoshop upgrade also will allow designers to import and export some of the more popular 3-D formats.
Of course, Photoshop will sport the new tabbed interface that Adobe has slated for all of its CS4 applications. Photoshop also now supports multi-touch gestures for users of Apple's newest laptops.
Adobe Photoshop CS4 will cost $A1249 and ship in October. Also shipping in October, Photoshop Extended costs $A1799. Contact Adobe for upgrade pricing.