News
Autodesk, which did not participate in Macworld Expo this week, introduced three new creative software tools for the Mac platform. The company's new offerings include Toxik, a procedural compositing tool; Mudbox, designed for digital sculpting and texture painting; and ImageModeler, image-based modeling and photogrammetry software. All three programs require an Intel-based Mac.
Toxik is designed to accompany Autodesk's Maya 2009 3D modeling, rendering and animation software. It provides compositing and effects capabilities for 2D visual effects artists and others. Toxik is designed with an emphasis on collaboration and iterative workflows, and provides tools to support stereoscopic productions. It's coming in March, 2009 for $US3,495 ($A4950).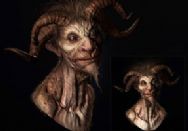 Mudbox

helps you paint texture and retouch 3D models. The software features "organic" brush-based 3D modeling and texture painting, and it's coming in February for $US745 ($A1055).
ImageModeler helps to generate 3D models from photographs. Autodesk aims the software at architects, designers and entertaining content creators who want to work with 3D models based on real-world objects. It also is planned for a March release and will cost $US995 ($A1400).