News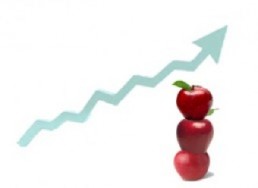 Following on from Apple's Q2 earnings call yesterday, which revealed record iOS sales numbers, greater than was expected, the company's iPhone suppliers also benefited from the successful period, announcing higher shares across the board.
Apple shares closed on Wednesday  8.9 percent higher, after the company announced in a conference call that it nearly doubled its profit from last quarter. In addition, Apple had exceeded analyst expectation of iPhone sales, shifting 35.1 million units in the first three months of the year, reports CNNMoney.
Suppliers for Apple's iPhone also benefited from Apple's announcement, with smaller companies like Cirrus Logic (CRUS) adding more than 11 percent, Triquint (TQNT) rising 7.6 percent and Skyworks Solutions (SWKS) ending more than 6 percent higher.
CNNMoney notes that two bigger semiconductor companies also increased in value: ARM (ARMH) gained 2.7 percent and Qualcomm (QCOM, Fortune 500) grew by 2.3 percent.
Shares of Omnivision (OVTI), the manufacturer that makes camera sensors for the iPhone, leapt by 8.8 percent.
Stretching even further into the iPhone ecosystem were accessories companies like Zagg (ZAGG) who reported a 7.5 percent jump.
Sales figures announced at the Apple event equate to a staggering 645,000 Apple devices sold globally every day, continuing to cement a mainstream industry that is seeing supplier companies reap significant benefits.
For full coverage of Apple's Q2 earnings call, click here.