News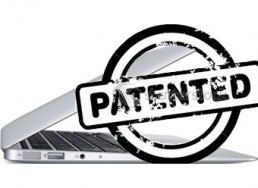 Apple has been issued with a broad patent this week for the 'teardrop' design of its MacBook Air, potentially causing problems for makers of Ultrabooks seeking to roll out similar-looking designs.
The US Patent and Trademark Office approved the Apple Design Patent which states that the company's 'teardrop' form introduced in the MacBook Air range now belongs exclusively to Apple.
The patent is different from others like it, offering a detailed illustration of the body of the MacBook Air, but with no detail or text  as to the design specifics. This gives the patent more scope, due to lack of definition of what Apple is claiming as their own and what they want to block other companies from replicating.
The patent could pose all sorts of problems for  Ultrabook makers, if Apple takes legal action against the companies planning to release similarly designed laptops later in the year. Any Ultrabook design that bears a resemblance to the MacBook Air and its patented design form could face infringement lawsuits.
The Verge elaborates on what the new patent means for potential infringement cases:
"In determining infringement, courts look at whether the allegedly infringing device and the design patent are substantially similar in overall appearance to an "ordinary observer," excluding minor differences. You can see (image below) how Apple has dashed out the unimportant details of the notebook, like the rear contour, hinge, side ports and feet, and instead focuses on the overall wedge shape and look of the device with solid lines", the site reports.
[Image source: The Verge]
"That's the aesthetic Apple has patented here and a notebook with hinges, feet or a shaped back different than the MacBook Air could still be infringing as long as the rest is substantially similar."
While Apple has not shown an interest in pursuing legal action with Ultrabook manufacturers yet, the situation could change once new models start hitting retail shelves.