News
Apple overnight announced an update to the Mac mini line of compact desktop Mac systems, adding faster processors, doubling memory capacity, and introducing a new server configuration that trades an optical drive for more storage.
In Australia, the refresh was accompanied by a significant price drop. The new $849 configuration features a 2.26GHz Intel Core 2 Duo processor, 2GB of 1066Mhz RAM, and a 160GB hard drive. The new $1099 configuration features a 2.56GHz Intel Core 2 Duo processor, 4GB of RAM, and a 320GB drive. Both are powered by NVIDIA GeForce 9400M graphics circuitry. Before the refresh, the entry-level Mac mini was priced at $1049 with 1GB of RAM and the higher-end model $1399 with 2GB of RAM.
The new $1399 Mac Mini server configuration has no optical drive; in its place is a second internal hard drive. The server configuration is powered by a 2.53GHz Core 2 Duo processor, and features 4GB of RAM and two 500 GB drives for a total of one terabyte of storage. It comes with the Snow Leopard edition of Mac OS X Server preinstalled.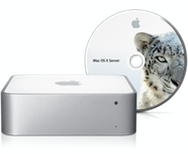 Before this update, most recent update to the Mac mini was in March 2009. That model was powered by a 2.0GHz processor and came in 120GB and 320GB models at $599 and $799, respectively. The original Mac mini model was introduced in 2005.