News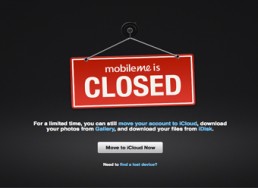 Apple shut down its MobileMe web service yesterday, leaving account holders' data available for a 'limited time' in order to migrate onto its online storage service iCloud.
Users are currently able to move their photos from the Gallery, download their files from iDisk and access Apple's 'find a lost device' services.
MobileMe has had a rocky period since its launch in June 2008. The online service was supposed to bring users synced contacts, calendars and emails across devices but failed to live up to expectations. Steve Jobs famously fired the MobileMe team leaders after its launch and is quoted as saying "You've tarnished Apple's reputation…. You should hate each other for letting each other down."
According to CultofMac MobileMe users are receiving equivalent storage upgrades for free when moving to iCloud.
"The only catch is that MobileMe accounts with 60GB of storage will receive 50GB of free space instead of 60GB. Apple is offering free storage upgrades to give MobileMe users time to manage and move their data around until the free iCloud upgrades expire on September 30th, 2012," CultofMac reports.