News
Apple has reported record revenue and earnings for its fiscal fourth quarter, thanks to strong sales of Macs, iPhones, and iPads.
In what chief financial officer Peter Oppenheimer called a "great fiscal quarter", Apple reported a quarterly profit of US$4.31 billion, compared to US$2.53 billion for the same period last year. For the three months ended 25 September, Apple recorded US$20.34 billion in revenue, an increase of nearly 67 percent from the year-ago quarter's sales figure of US$12.21 billion.
Apple's earnings of US$4.64 per diluted share handily beat estimates by Wall Street analysts who were expecting the company to report earnings of US$4.06 a share on US$18.86 billion in revenue for the quarter.
"We still have a few surprises left for the remainder of the calendar year," said CEO Steve Jobs in a statement accompanying the earnings. Apple has scheduled a press event for this Thursday where the company is expected to focus on the Mac.
iPad and iPhone sales
Oppenheimer credits record iPhone sales, enthusiasm for the iPad, and a new quarterly sales record for Mac sales as the drivers behind Apple's strong quarterly performance. In particular, Apple sold 4.19 million iPads during the first full quarter of sales for the tablet; all told, the company sold 7.5 million iPads during its 2010 fiscal year.
"We're thrilled with its momentum," Oppenheimer said during a conference call with financial analysts. "We're seeing great enthusiasm from consumers, educators, and businesses."
For the fiscal fourth quarter, Apple recorded US$2.8 billion in sales of iPads and related accessories, with the iPad accounting for US$2.7 billion of that figure. That translates to an average selling price of around US$645 for the tablet, Oppenheimer said.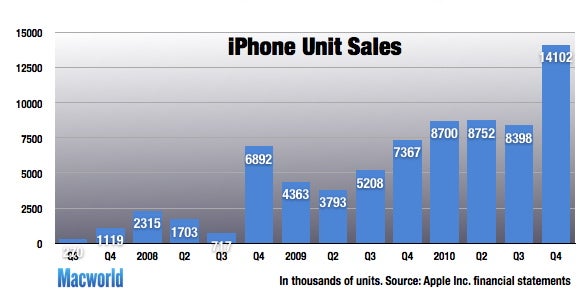 As for the iPhone, the launch of the new iPhone 4 helped Apple sell 14.1 million phones during the quarter. That's a 91 percent increase over the 7.4 million phones sold during the year-ago quarter and a new quarterly record for smartphone sales for the company.
More to the point, Apple's iPhone sales topped the 12.1 million phones the company claims that rival smartphone maker Research In Motion sold during its most recent quarter – a fact highlighted by CEO Steve Jobs during a rare appearance on the quarterly earnings call with analysts.
"We've now passed RIM, and I don't see them catching up to us in the future," said Jobs, who targeted most of his remarks during the conference call at Google and its Android operating system. Jobs called Google's claims that Android is more open than Apple's iOS "a bit disingenuous" and a "smokescreen" to distract consumers from the benefits of the integrated experience Apple provides with its iPhone and iPad product lines.
Jobs also took aim at the number of potential iPad competitors poised to hit the tablet market in the coming months. "It appears to be a handful of credible entrants and not an avalanche," said Jobs, who thinks would-be iPad rivals will suffer by offering a smaller screen size, a fragmented experience, and uncompetitive prices.
Recognised revenue from the iPhone rose 92 percent to US$8.82 billion. The phone is now available through 166 carriers in 89 countries. That includes China, which just started selling the iPhone 4 on the final day of Apple's fiscal fourth quarter. The phone has been a success there, with partner China Unicom selling 100,000 phones during the first four days the new smartphone went on sale.
For the 2010 fiscal year, Apple sold 40 million phones, a 93 percent jump over 2009. During September, the company says it passed the 125 million mark for cumulative iOS sales of its iPhone, iPad, and iPod touch offerings.
Don't forget the Mac
Apple also saw a record quarter for its Mac business. The company sold 3.89 million computers, up 27 percent from its year-ago sales. Fourth-quarter Mac sales topped the previous high-water mark of 3.47 million mark set during the third quarter. Year-over-year sales growth was more than double the growth rate projected for the overall PC market by research firm IDC, according to Oppenheimer.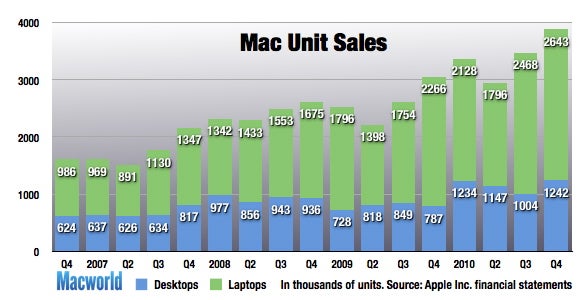 Laptops continue to be the driving force behind Apple's Mac sales, with portable products accounting for 71 percent of the Macs sold during the September quarter. However, sales of desktops rose nearly 28 percent to a little more than 1 million units, on the strength of the company's iMac and Mac Pro updates in July.
Apple saw year-over-year growth in Mac sales across all of its geographic segments. Growth was particularly strong in the Asia Pacific and Japan markets, which saw revenue rise 157 and 121 percent, respectively, from last year's fourth quarter.
iPod sales drop
Not all of Apple's product lines are growing. The iPod segment continues to shrink, with Apple selling 9.05 million music players during the quarter – that's an 11-percent drop from last year's figures. Apple updated its iPod line in September, though the company usually sees the fruits of those efforts during the holiday quarter.
While iPod sales growth stalled throughout 2010, Apple opted to focus on the positives. It noted that the iPod's share of the MP3 player market in the US continues to top 70 percent, according to research firm NPD's figures. And Apple says its music player gained market share internationally from the year-ago quarter. The company also reported that its iTunes Store brought in more than US$1 billion in revenue for the September quarter.
Retail rules
Apple's retail segment had what Oppenheimer called a "record-breaking quarter", with revenue rising 75 percent to US$3.57 billion. Apple sold 874,000 Macs through its retail arm, an increase of 30 percent from the year-ago quarter. The company sales that half of the Macs sold through its brick-and-mortar outlets continue to be to customers who are new to the platform.
Apple ended the fourth quarter with 317 stores, 84 of which are outside the US. In fact, with new store openings in Spain, Apple now has retail outlets in 11 countries. The company opened 24 new stores during the quarter, with 16 of those opening outside of US borders.
As with the iPhone, China proved to be a fertile ground for Apple's retail efforts. Newly opened stores in Beijing and Shanghai recorded the highest opening day revenue when they launched during the quarter. Apple says its four stores in China have the highest traffic of any of its outlets.
Look for the company to continue to expand internationally during 2011. It plans to open 40 to 50 stores during the coming fiscal year, with half of those slated for outside the US. The company also plans to start renovating several of its US stores during 2011.